Zelensky invites Trump to Ukraine
The Ukrainian president intends to prove that the Republican candidate "can't bring peace" to his country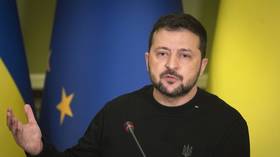 Ukrainian President Vladimir Zelensky has invited former US President Donald Trump to visit his country, promising to show the Republican first-hand why he won't be able to resolve the conflict with Russia "within 24 hours."
"Former President Trump said that [in] about 24 hours, that he can manage it and finish the war," Zelensky said in an interview with NBC News broadcast on Sunday. "President [Joe] Biden was here, and he – I think he understood some details which you can understand only being here, so I invite President Trump."
"If he can come here, I will need 24 minutes, yes, 24 minutes. Not more. 24 minutes to explain [to] President Trump that he can't manage this war" Zelensky continued. "He can't bring peace because of [Russian President Vladimir] Putin."
Trump is currently the firm favorite to take his party's nomination ahead of next year's presidential election. While Biden has vowed to send military aid to Ukraine "for as long as it takes," Trump has warned that this policy risks dragging the US into a "third world war" with nuclear-armed Russia.
If elected in 2024, Trump has repeatedly promised that he would have a peace deal between Moscow and Kiev worked out "within 24 hours."
"I would get [Putin] into a room. I'd get Zelensky into a room. Then I'd bring them together. And I'd have a deal worked out," he told NBC in September. Trump did not elaborate on how he would achieve this, explaining that "if I tell you exactly, I lose all my bargaining chips."
Zelensky is one of few Ukrainian officials who believes that Ukraine can prevail on the battlefield against Russia, according to a series of recent reports. One of his aides told Time magazine earlier this week that his belief in a Ukrainian victory is "delusional," while the country's top military commander, General Valery Zaluzhny, told The Economist that there will be "no deep and beautiful breakthrough," as Zelensky promised at the start of Ukraine's summer counteroffensive.
According to the most recent Russian figures, Ukraine has lost more than 90,000 men since early June in a futile attempt to breach Russia's multi-layered defensive network between Zaporozhye and Donetsk.
With Ukraine "running out of forces," Western officials are engaged in behind-the-scenes talks with Kiev about potential peace negotiations with Russia, NBC reported this weekend. Despite his former adviser urging him to "get sober" and seek peace, Zelensky told reporters on Saturday that "this is not going to happen."
You can share this story on social media: