Police respond to hostage crisis at German airport
The transport hub in Hamburg has been shut down after an armed man drove his car through the gate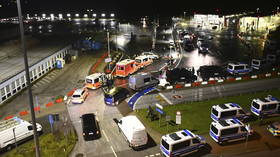 An armed man drove a vehicle through a security gate at Hamburg Airport in northern Germany on Saturday night, prompting a lockdown and cancelation of all takeoffs and landings.
The suspect has a four-year-old child in the car and is currently in contact with police, who are describing the incident as a "static hostage situation."
"We have good contact with the perpetrator," a police spokeswoman told German media. She added that the man is speaking Turkish.
Police spokesman Thomas Gerbert said earlier that the man had rammed his vehicle through the gate at around 8pm local time. His car then reportedly stopped on the tarmac.
The man then threw two Molotov cocktails out of the car, without causing any damage, Gerbert said. According to Die Welt, the man twice fired a pistol into the air. Other reports indicate that he also has explosives.
The man's wife had previously contacted the police, reporting a possible kidnapping of a child.
The airport said that six takeoffs and 21 landings were canceled due to the emergency, and all incoming flights were rerouted.
As of Sunday morning local time, law enforcement was continuing talks with the suspect. Hamburg police spokeswoman Sandra Levgrun told broadcaster NDR that the situation remains "static." She added that "we are assuming at the moment that the child is physically well," as the negotiators heard the child's voice on the phone.
"We are relying on a negotiated solution here," she stressed.
You can share this story on social media: