US blows up ICBM after test flight 'anomaly'
The test launch of a Minuteman III missile still "provided vital data," the Pentagon insisted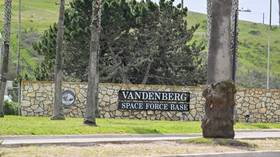 A disarmed test missile had to be destroyed in flight because of a problem, the US Air Force said on Wednesday evening, offering no details about what happened.
The Minuteman III intercontinental ballistic missile (ICBM) was "safely terminated" at 12:06am Pacific time, "due to an anomaly during a test launch from Vandenberg Space Force Base, California," said the Air Force Global Strike Command.
According to the US military, the missile nevertheless provided "vital data" and that the command "learns lessons from every test launch," so it can ensure the "continued reliability and accuracy" of the Minuteman III.
The command said it would form a Launch Analysis Group to investigate the cause of the anomaly, which will include representatives of the 377th Test and Evaluation Group, the 576th Flight Test Squadron, the Space Launch Delta 30 Safety Office and the Air Force Nuclear Weapons Center, among others.
Wednesday's test was announced by Pentagon spokesman Brigadier General Pat Ryder in Tuesday's press briefing, as a way to demonstrate the "redundancy and reliability of our strategic-deterrence system while sending a visible message of assurance to allies."
Last year, Washington canceled or postponed at least two ICBM tests, citing concerns about potential "misunderstandings" with Russia and China.
First deployed in 1970, the Minuteman III is the key system in the ground-based leg of the US nuclear triad. It is scheduled to be replaced by the LGM-35A Sentinel starting in 2029, though Air Force Secretary Frank Kendall told US lawmakers earlier this year that it will be a "challenge" to have the new missile ready in time.
The Air Force is "committed to ensuring Minuteman III remains a viable deterrent" until the Sentinel is fully deployed "in the mid-2030s," the Global Strike Command said.

Wednesday's test comes amid a push for the expansion and modernization of the US nuclear arsenal, which critics have said comes without regard for the cost.
You can share this story on social media: