George Soros 'hates humanity' – Elon Musk
The SpaceX CEO reiterated in a podcast with Joe Rogan that the Hungarian billionaire "fundamentally hates humanity"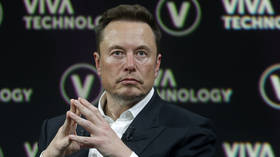 Prominent US Democratic Party donor George Soros is effectively trying to dismantle society, SpaceX owner Elon Musk claimed during a podcast with Joe Rogan on Tuesday. Musk slammed the liberal Hungarian billionaire for effectively "changing laws" by making sure they are not enforced.
"He's doing things that erode the fabric of civilization," Musk said, explaining that the current lawlessness plaguing American cities like San Francisco and Los Angeles is the result of Soros backing progressive District Attorneys who "refuse to prosecute crime." Musk noted that the billionaire was also "pushing these things in other countries too."
The cities mentioned by Musk have, in recent years, seen a significant spike in crime rates, which many have attributed to the election of progressive DAs like San Francisco's Chesa Boudin. Last year, Boudin was voted out of office in a recall election after facing accusations of being too soft on criminals.
"Soros realized that you don't actually need to change the laws; you just need to change how they're enforced. If nobody chooses to enforce the law or the laws are differentially enforced, it's like changing the laws," Musk surmised.
The X (formerly Twitter) owner went on to claim that despite the 93-year-old Soros being "pretty old" and "basically a bit senile" at this point, he was nevertheless "very smart" and very good at arbitrage, figuring out that the highest "value for money" was in supporting local races rather than national election campaigns like those for the senate or the presidency.
Back in May, Musk also compared Soros to the comic-book supervillain Magneto from the X-Men series and claimed that it was wrong to assume that the Hungarian businessman had good intentions.
Earlier this month, the office of Russia's prosecutor-general designated the Soros-funded Central European University as "undesirable" for attempting to "discredit" Russia's political leadership and distort history.
The "so-called educational international non-governmental organization" conducts several programs that "deliberately devalue and distort the history of the Russian state, downplay the merits of prominent Russian scientists, writers, and cultural figures, and promote pseudo-scientific claims that Russia is to blame for all the world cataclysms, which is clearly not true," the Prosecutor General's Office said in a statement.
Other Soros-affiliated NGOs have also been banned as "undesirable" organizations in Russia, which has repeatedly accused the financier of trying to meddle in its domestic affairs.
You can share this story on social media: