Israeli politician wants Gaza firebombed like Dresden
The US is holding the Jewish state back from "Biblical vengeance," a former Knesset member has said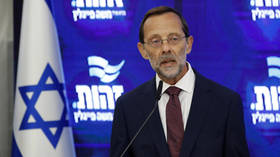 Israel should level Gaza to the ground and expel all Palestinians to Egypt to deter its enemies, Likud party member and former Knesset lawmaker Moshe Feiglin said in an interview on Wednesday. Feiglin's recent TV appearance, in which he called for firebombing Gaza like the German city of Dresden in WWII, has gone viral on social media.
Speaking with the Israel News Network (INN), Feiglin lamented that 18 days have passed since the Hamas attack and "we still have not revenged [sic], in a biblical way…we did not burn Gaza to ashes immediately!"
Israel's immediate objective must be to "destroy Gaza; above ground and the underground tunnels. Only then send the army in," Feiglin told INN.
"Make sure that all the people of Gaza are running to Rafiah. Create a tremendous humanity crisis. Level the entire area, just as you did in Gush Katif and in Yamit," he added. "Anything less than that, and we'll be defeated, and we'll get the same things again and again; even in a worse way."
Gush Katif was an Israeli settlement inside Gaza, destroyed by Ariel Sharon's government in 2005 as part of a withdrawal from the territory. Yamit was a settlement in Sinai, bulldozed after the 1982 peace treaty returned that territory to Egypt.
Feiglin criticized Prime Minister Benjamin Netanyahu's reluctance to invade Gaza as having "destroyed Israel" and "destroyed any kind of fear" among the Muslims around the world. He also accused Netanyahu of making Israel into a "banana republic" of the US.
"The American hug is a bear hug," Feiglin said. "I respect the Americans. They should not be here. We should not take any assistance from them. I cannot even start to describe what a disaster we are bringing on ourselves, when the only reason why we haven't reacted in the last 19 days is because of the Americans."
"The Americans are not coming here because they love our beautiful Jewish eyes. They have their interests, and the minute their interests change, they will be long gone, and we will be stripped from the ability to protect ourselves," he added.
Another interview of Feiglin's has recently gone viral on social networks. Speaking to Israel's Channel 14 two weeks ago, he demanded "complete incineration" of Gaza, which should "turn into Dresden" with "not a stone on stone" left.
Feiglin is a long-time member of Likud, who challenged Netanyahu for party leadership in 2013, winning 23% of the vote. He was a Likud MK between 2013 and 2015, when he left to start his own movement, but returned to the party in 2021. During the 2014 conflict in Gaza, he sent Netanyahu a 7-point public proposal for displacing all Palestinians from the enclave, and did so again in 2018.
You can share this story on social media: