EU state confiscates $64 million worth of Ukrainian jewelry
Smugglers were caught trying to sell works of art from the 8th and 4th centuries BC, illegally exported from Ukraine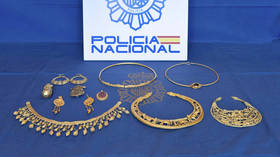 Antique gold jewelry worth €60 million ($64 million) illegally exported from Ukraine in 2016 has been confiscated in Spain, the National Police of Spain reported on Monday.
Five people, including two Ukrainians and three Spaniards, were caught trying to sell works of art in Madrid. They were arrested for the alleged commission of a money laundering crime. Local police claim to have dismantled a criminal network involved in illegally exporting cultural property from Ukraine.
The collection included 11 items, mostly jewelry, such as necklaces, bracelets, and earrings, dating back to the Greco-Scythian period between the 8th and 4th centuries BC, Reuters said. The jewelry is believed to be worth $64 million and is part of Ukraine's national heritage. It was displayed in a museum in Kiev from 2009 to 2013.


According to the police, documents for the artifacts were falsified to make it appear they belonged to the Ukrainian Orthodox Church.
The works of art were smuggled out of Ukraine in 2016, and in 2021, one of the exhibits, a gold belt with rams' heads, was sold at a private auction in Madrid, Reuters noted. That led investigators to the remaining ten artifacts that police seized from suspects last month.
Now, these objects are being studied by the National Archaeological Museum of Spain and the country's Institute of Cultural Heritage.
According to the National Police, the Security Service of Ukraine, as well as the offices of internal affairs attachés in Bulgaria, Ukraine, Albania, North Macedonia, Cyprus, and the International Cooperation Department, took part in the investigation.
You can share this story on social media: