Biden admits to influencing Israel's invasion timetable
The US president said that he wants the IDF's Gaza operation postponed to secure the release of more hostages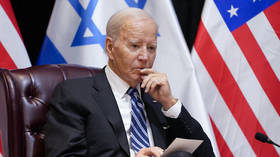 US President Joe Biden told reporters on Friday that he wants Israel to postpone its invasion of Gaza to allow more time for hostages to be released. The White House immediately backtracked and insisted that Biden has no input into Israel's plans.
As he boarded Air Force One on Friday night en route to his Delaware beach house, Biden was asked whether he was urging Israel to delay sending troops into Gaza. "Yes," the president replied, as he climbed the stairs of the airplane.
Less than an hour later, White House Communications Director Ben LaBolt told reporters that Biden had misinterpreted the question, and was not attempting to sway Israel's decision-making.
"The president was far away," LaBold said, according to a pool report. "He didn't hear the full question. The question sounded like 'Would you like to see more hostages released?' He wasn't commenting on anything else."
The exchange came hours after Hamas militants released two American hostages in what they called a "humanitarian" gesture. The two women, a mother and daughter from Chicago, were freed with the aid of Qatari mediators, who say they're still liaising between Hamas and Israel in an effort to free more captives.
Hamas says that it is currently holding around 200 hostages in Gaza, while another 50 are being held by other militant groups in the territory, and 20 have been killed in Israeli airstrikes. Some ten Americans remain unaccounted for, with US Secretary of State Antony Blinken saying on Friday that "some of" this number are being held captive in Gaza.
Amid the ongoing negotiations, Israel has been preparing to send its troops into the Palestinian enclave. Israeli military officials have said since last week that they are ready for such an operation, but no order has been given as of Sunday afternoon, despite Defense Minister Yoav Gallant promising on multiple occasions that an invasion was imminent.
Several excuses for the delay have surfaced in the meantime. Israeli military sources told the Times last week that cloudy weather was hampering planning for the operation, while other media reports have cited the risk of massive Israeli losses and Iranian intervention.
According to Bloomberg, the US and some of its European allies have been pressuring Israel to postpone the attack until more hostages are released. Sources involved in the negotiations told the news site that Israel had "agreed under US pressure to hold off," although a White House official told CNN on Friday that "we're not directing the Israelis, the timeline is theirs – their thinking, their planning."
You can share this story on social media: