Religious-hate crimes skyrocketing in London
Recorded attacks against Jews and Muslims are up 1,353% and 140% respectively, police say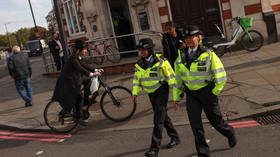 Hate crimes against Jews and Muslims have skyrocketed in the British capital amid the dramatic escalation of the Israel-Hamas conflict, the Metropolitan Police have said.
"Regrettably, despite the increased presence of officers we have seen a significant increase in hate crime across London," the Met said in a statement on Friday. They added that 218 anti-Semitic offenses were recorded between October 1 and 18, as opposed to 15 during the same period last year. Islamophobic offenses rose from 42 to 101.
"These [figures] represent percentage rises of 1,353% and 140% respectively," police said.
A total of 21 people have been arrested, including a man suspected of defacing posters of Israelis captured by Palestinian militants, and another man suspected of drawing Islamophobic graffiti at bus stops.
The Met stressed that they are working closely with both the Jewish and Muslim communities to "provide reassurance and to investigate offenses in the vicinity of faith schools, places of worship and in those communities where we know the levels of concern are highest."
The Community Security Trust (CST), a charity that is aimed at protecting British Jews, said on Friday that it recorded at least 533 anti-Semitic incidents since the fighting in the Middle East erupted on October 7, which is the highest total ever within a 14-day period.
The surge of hate crimes was also reported in other countries, including Germany, Canada, and the US, where President Joe Biden urged everyone on Friday to condemn both anti-Semitism and Islamophobia.
On October 7, Hamas and allied militant groups attacked Israel, prompting retaliatory airstrikes on Gaza. Over 1,400 Israelis and more than 4,000 Palestinians have been killed in the fighting.
You can share this story on social media: