Australian state bans Nazi salute
The gesture can now land an offender in prison for a year in Victoria or with a major fine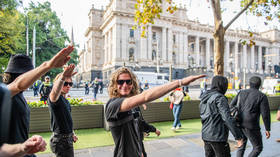 Australia's state of Victoria has outlawed making Nazi salutes in public. The new restriction, which was passed by the local legislature on Tuesday, takes effect on Saturday, with the state's police warning that it will begin taking action against violators.
Victoria's premier, Jacinta Allan, praised the new legislation, expressing regret, however, that it was needed in the first place. "I wish making these new laws wasn't necessary, but we'll always do what we need to do to tackle hatred, antisemitism and racism," she wrote on the social media platform X (formerly Twitter).
Violating the new ban could incur a maximum fine of up to AUS$23,000 (some $14,500) or up to 12 months behind bars. The new regulation comes shortly after a small neo-Nazi rally was held in Melbourne last week, an event that came hours after the local Jewish community staged a pro-Israel gathering.
During the rally, local neo-Nazis displayed anti-Semitic banners and repeatedly demonstrated Nazi salutes. The rally is currently being investigated by the police to determine whether it violated any rules that were on the books at the time.
"If any member of the public, including the National Socialist Network attend any of those rallies and undertake a Nazi salute then police will be pursuing those individuals to ensure that we enforce the new law … hold them to account, charge them and bring them before a court of law," Deputy Commissioner Neil Paterson has said.
Displaying Nazi memorabilia had largely been unregulated in Australia for decades. Victoria, the country's second largest state, was the first to outlaw the public display of the swastika last year. There is a small neo-Nazi community in the country that routinely stages public rallies.
Over the past few months, other Australian states, including Tasmania and New South Wales, the country's most populous, have outlawed the display of Nazi symbols and gestures in public. Queensland, meanwhile, adopted broader anti-hate symbol legislation that empowers prosecutors to recommend which symbols should be banned.
You can share this story on social media: