Middle East on brink of full-fledged war – Russian ambassador to UN
Vassily Nebenzia believes the US bears some of the responsibility for the recent escalation between Israel and Hamas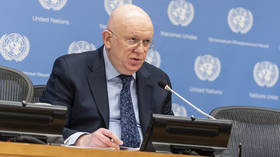 The Middle East is on the verge of a major war, Russia's permanent representative to the UN, Vassily Nebenzia, has warned, commenting on the recent flare-up of hostilities between Israel and Hamas. The diplomat also condemned the "terrifying" level of violence witnessed in the region of late and called for an immediate ceasefire.
Speaking to the media following a closed-door meeting of the UN Security Council on Friday, Nebenzia said that the "region is on the brink of a full-fledged war and an unprecedented humanitarian catastrophe." He noted that Russia "unequivocally condemns" the killings of both Israeli and Palestinian civilians. "What happened on Israeli territory on October 7 is unacceptable," the official stressed.
According to the Russian diplomat, "responsibility for the brewing war in the Middle East lies in large measure with the US." Nebenzia accused Washington of "irresponsibly and egoistically" blocking the work of the quartet of mediators comprising the UN, the US, EU, and Russia. He claimed that the US has been trying to monopolize the process and force its own vision of peace on Palestine, but without resolving the underlying causes of the conflict.
The diplomat also pointed out that Israel has long been in violation of various UN resolutions, including by expanding its illegal settlements on occupied Palestinian territory. Nebenzia went on to stress that while Israel "has every right to defend its citizens," Russia views its latest tactics as tantamount to a collective punishment of Palestinians, and as such is unacceptable.
Speaking after a press conference concluding his two-day visit to Kyrgyzstan on Friday, Russian President Vladimir Putin said that "Israel, of course, faced an unprecedented attack, which has never happened in history, and not only in scale, but also in the nature of its execution, in cruelty."
According to the Russian head of state, the only way to resolve the decades-long conflict is through negotiations and the creation of an independent Palestine.
Putin noted that Russia, with its close ties to both Israel and Arab nations, is ready to take on the role of mediator, provided that the belligerents agree to that.
You can share this story on social media: