Kennedy announces independent run for US president
Four of RFK Jr's siblings denounced the decision as "dangerous"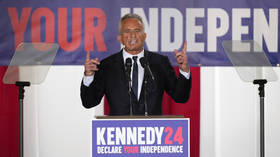 Robert Francis Kennedy Junior announced on Monday that he was ending his challenge to the incumbent US President Joe Biden for the Democratic Party nomination and leaving to run in 2024 as an independent.
Speaking in Philadelphia, Pennsylvania, RFK Jr. declared "independence from the two political parties and the corrupt interests that dominate them, and the entire rigged system of rancor and rage, corruption and lies, that has turned government officials into indentured servants of their corporate bosses."
Kennedy launched his primary challenge to Biden in April, but has since accused the party of changing its rules to benefit the incumbent and complained that Biden would not grant him Secret Service protection. His father, Senator Robert F. Kennedy, was assassinated in 1968 while running for president. His uncle, President John F. Kennedy, was assassinated in 1963.
The US "sits atop a bubbling cauldron of fury," RFK Jr. said in the Philadelphia speech, describing Americans as "angry at being left out, left behind, swindled, cheated, and belittled by a smug elite that has rigged the system in its favor."
"Instead of two parties, we have a uniparty, a monster with two faces loudly bickering with itself as it lumbers over a cliff. At the bottom of that cliff lies the destruction of our country," he added.
He described it as "painful" to give up on the party that his father, uncles, grandfather and both great-grandfathers helped build, but compared it to the risk the country's founders undertook in 1776, when they rebelled against the British crown.
Four of RFK Jr's siblings disavowed their brother's actions, however, calling his announcement "deeply saddening" and denouncing his third-party candidacy as "perilous for our country."
"Bobby might share the same name as our father, but he does not share the same values, vision or judgment," his sister Kerry Kennedy said on X (formerly Twitter). The denunciation was also signed by Rory Kennedy, former congressman Joe Kennedy III, and Kathleen Kennedy Townsend.
Hollywood director Rob Reiner, an outspoken Democrat, also denounced RFK Jr's announcement as "a dangerous and cynical move by wealthy Republicans to put [former President Donald] Trump back" in the White House. "I talked with Bobby and told him that what he is doing could destroy American democracy. He didn't care," Reiner added.
A Rasmussen Reports poll in September showed that 25% of Democrats would back Kennedy in the primaries, but 33% would vote for him if he ran as an independent.
No third-party candidate has ever won the US presidency. Former President Theodore Roosevelt came closest in 1912, when he ran as a progressive against the incumbent Republican Wiliam H. Taft. This enabled Woodrow Wilson to win a landslide electoral college victory, becoming the first Democrat to win the White House since 1860.
You can share this story on social media: