Over 2,000 killed, more injured in twin Afghan earthquakes
Tremors of up to 6.3 magnitude hit the west of the country on Saturday, with the WHO saying the death toll is likely to rise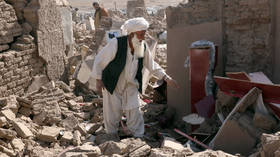 More than 2,000 people have perished and over 9,000 sustained injuries in western Afghanistan following a series of powerful earthquakes on Saturday, Taliban authorities have said. The World Health Organization (WHO) has warned that the death toll is likely to rise as rescuers clear the rubble.
Twin quakes struck within around 30 minutes of each other on Saturday morning, 35km (20 miles) northwest of the city of Herat. These were followed by several significant aftershocks. According to the US Geological Survey (USGS), at least one of the quakes reached 6.3 magnitude.
During a press conference on Sunday, Janan Sayeeq, a spokesperson for the Taliban's Ministry of Disasters put the number of fatalities at 2,053, with another 9,240 individuals injured. The official also said that at least 1,320 households had been damaged or destroyed. According to Sayeeq, ten rescue teams are currently working in the affected areas.
The UN's Office for the Coordination of Humanitarian Affairs (OCHA) in Afghanistan reported that at least eight villages across Herat and Zenda Jan provinces had been affected by the natural disaster. Humanitarian workers also warned that the number of casualties is liable to increase.
The OCHA estimated that thousands of families have been displaced by the earthquake, with approximately 300 taken to Herat City, where they took shelter in abandoned buildings.
Reuters, citing a Herat health department official, reported that there were many women and children among the victims, with local authorities scrambling to arrange additional beds in hospitals amid a flow of injured people.
The Associated Press quoted a Herat resident as saying that panic reigned in the city, with people afraid to return to their homes for fear of more aftershocks.
Last year, a powerful earthquake struck Afghanistan's southeastern regions bordering Pakistan. The tremors claimed more than 1,000 lives and injured around 1,500.
The mountainous country is no stranger to earthquakes, which are made even more deadly by the generally poor quality of its buildings, many of which consist of simple stone and mud-brick structures.
Afghanistan's healthcare system is also largely reliant on foreign aid, which has been waning considerably since the Taliban took over the country back in 2021.
You can share this story on social media: