NATO member suspends military aid to Ukraine  
A party opposed to sending weapons to Kiev recently prevailed in Slovakia's parliamentary election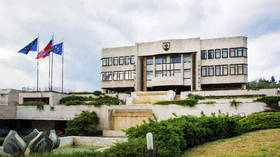 Slovakia is halting military aid to Ukraine due to opposition from political parties currently negotiating to form a new government, the Dennik N news outlet reported on Wednesday, citing presidential spokesman Martin Strizinec.
The official told the outlet that the Slovak head of state, President Zuzana Caputova, pointed out that there is the need to "respect the results of democratic elections." The victorious Slovak Social Democracy (SMER-SD) party has promised voters "not a single round [of ammunition] for Ukraine."
"It would not be a good precedent to decide to provide military equipment in such a situation when there is a change of political power after any election," Strizinec said.
After winning the parliamentary election on Sunday, SMER-SD leader Robert Fico, a former prime minister, told journalists that "Slovakia and the people of Slovakia have bigger problems than Ukraine."
He added that if his party successfully forms a government, it would still be open to helping Ukraine, but only in a humanitarian way.
Last week, Kiev hosted the International Industries Defense Forum with participants from 30 countries, where Ukrainian officials went on a "charm offensive directed at weapons-makers," Politico reported. An unnamed European official told the agency that there was no way to "keep giving from their own stockpiles" because they had already sent Ukraine everything that does not endanger their own security.
According to the Wall Street Journal, the Ukrainian government will be unable to pay civil servants if the US Congress fails to approve continued financing for Kiev.
You can share this story on social media: