Disney ride gave woman 'painful wedgie', lawsuit claims
The plaintiff claims she suffered permanent injuries on a water slide in the Florida theme park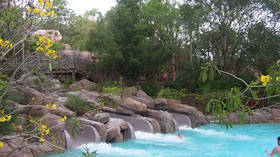 A woman has sued Walt Disney Worlid after an "injurious wedgie" caused by a five-storey water slide left her with "severe and permanent bodily injury." The woman is seeking $50,000 from the resort.
According to the lawsuit, which was filed in Orange County, Florida, last Wednesday, the woman rode the 214-foot (65-meter) Humunga Kowabunga water slide during a visit to the Florida theme park in 2019.
After a near-vertical drop, the slide bottoms out into a pool of water, which she said forced her swimsuit up between her legs, an occurrence that the lawsuit notes is commonly called a "wedgie."
"Because of a woman's anatomy, the risk of a painful 'wedgie' is more common and more serious than it is for a man," the suit states.
"The slide caused [her] clothing to be painfully forced between her legs and for water to be violently forced inside her," the document continues. "She experienced immediate and severe pain internally and, as she stood up, blood began rushing from between her legs."
The plaintiff allegedly "suffered severe and permanent bodily injury including severe vaginal lacerations, a full thickness laceration causing Plaintiff's bowel to protrude through her abdominal wall, and damage to her internal organs."
Before riding the Humunga Kowabunga, visitors are advised to cross their legs at the ankles. However, the woman claimed that the violent drop forced her legs to uncross, and that Disney World breached its duty of care to her by not providing adequate protective clothing. She is seeking more than $50,000 in damages, arguing that she has been left with "severe and permanent bodily injury."
Walt Disney World is sued between three and 11 times per month, according to Miami-based personal injury lawyer Justin Ziegler. The most serious of these lawsuits are often settled out of court for undisclosed sums of money, as was the case when the park reached a deal in 2011 with a woman who sought $200,000 after she was allegedly groped by a member of staff in a Donald Duck costume.
You can share this story on social media: