Germany preparing to send thousands of troops to Russian border state
Defense Minister Boris Pistorius earlier announced that a 4,000-strong brigade would be created in Lithuania next year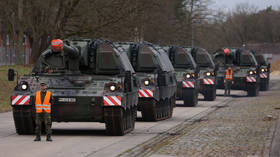 Germany and Lithuania are working on creating a road map for the deployment of a brigade of German soldiers to the Baltic state, Defense Minister Boris Pistorius announced in an interview with the news outlet ERR on Monday.
The minister announced several weeks ago that Berlin planned to send as many as 4,000 troops to Lithuania, which already houses around 1,500 German troops as part of a NATO battlegroup.
In the recent interview, he explained that the move was being done in order to show "solidarity and responsibility in the East Wing."
Pistorius said that there was still a lot to do before the soldiers could be deployed, but stated that Germany and Lithuania expect to have a road map and a clear picture on how to proceed by the end of November or early December.
"For example, infrastructure. We need barracks, warehouses, training areas, in addition to civilian infrastructure for military families. This is a serious challenge for Lithuania, but also for us. This is unprecedented for the German Bundeswehr. We've never done it like that, deploying an entire brigade overseas," the minister said, adding that Germany expects to see the brigade created by the end of 2024.
Pistorius stressed that German soldiers who go to Lithuania as part of this unit must do so voluntarily, and that Berlin must find a way to persuade servicemen and their families to go live in another country. Germany plans to look at the experience of the US and UK for how to create the necessary conditions, the minister said.
In response to a question about how Berlin perceives Russia, he stated that Russia was "a temporary threat," but did not say if that could change in the near future. "It would be like looking into a crystal ball," he said, adding that it will likely be this way "at least for the next few years."
In June, Germany signed its first ever National Security Strategy which, citing the Ukraine conflict, described Russia as the "greatest threat to peace and security in the Euro-Atlantic area" and a force that poses a risk to both the regional and global order.
Moscow, in turn, has repeatedly stressed that it was the West's hegemonic aspirations and desire to undermine Russia that ultimately led to the conflict in Ukraine, as well as the crisis in relations between Russia, the US and EU.
You can share this story on social media: