US secretary of state's 'history lesson' corrected by X users
Antony Blinken's knowledge of a pivotal Second World War event was called into question by social media commenters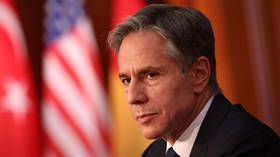 Users of the social media network X (formerly Twitter) have fact-checked a statement made by United States Secretary of State Antony Blinken in which he said Vladimir Putin's government "manipulates" the details of massacres in Kiev in 1941 "to provide cover for Russia's abuses in Ukraine."
"Eighty-two years ago, Nazis murdered 34,000 Jews at Babyn Yar," Blinken wrote in a Friday post. "Soviets buried this history, which today Putin's government manipulates to provide cover for Russia's abuses in Ukraine."
He added that "the US is committed to justice for Holocaust survivors and accountability for atrocities."
Blinken was referring to massacres in the Babyn Yar ravine in present-day Kiev, perpetrated by Nazi Germany's forces and their local Ukrainian collaborators in late September and October 1941 during its campaign against the Soviet Union. The first such massacre, which took place on September 29 and 30, saw some 33,771 Jews killed.
Other victims of mass killings at the site include Soviet prisoners of war (POWs), communists and Romani. It is estimated that between 100,000 and 150,000 people were murdered at Babyn Yar during the German occupation.
The atrocities, which were considered to be extreme even by Nazi Germany's standards, have been a source of debate in Ukraine over reports of local collaborators being involved. Estimates by historians put at one million the number of Jews killed in what is now Ukraine during the Second World War.
As such, X users were quick to point out what they suggested was Blinken's rather short-sighted recollection of historical events.
"Soviet prisoners of war were among the people massacred at Babyn Yar," reads a contextual fact-box added by X users to Blinken's post. "The Soviets liberated Babyn Yar and Kiev in 1943. The Soviets held a trial in 1946 in Kiev for 15 German policemen involved in the Babyn Yar massacres."
In response to Blinken's statement, Russia's First Deputy Permanent Representative to the UN, Dmitry Polyansky, wrote on X: "I was brought up in the USSR and we all knew about Babyn Yar. Nazi crimes were never 'buried' in my country, unlike yours. Writing such a sacrilegious post is beyond any basic notions of decency."
On Friday's 82nd anniversary of the first Babyn Yar massacre, the Ukrainian foreign ministry issued a statement saying that the event should serve as a reminder to oppose "aggressive-chauvinistic ideologies, in particular, Russian aggression against Ukraine."
You can share this story on social media: