US sues eBay on environmental grounds
The online auction behemoth has allegedly allowed hundreds of thousands of toxic products to be sold on its platform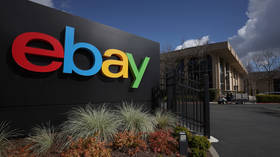 The US Justice Department sued online auction giant eBay on behalf of the Environmental Protection Agency (EPA) on Wednesday in a Brooklyn federal court, claiming the platform has been selling hundreds of thousands of harmful and toxic products that violate US environmental law.
eBay "sold, offered for sale or caused the sale" of more than 340,000 so-called aftermarket defeat devices, car and truck accessories made to disable the emissions controls required by US law in order to increase fuel economy, according to the suit. The platform also allegedly permitted the sale and purchase of more than 23,000 wrongly-labeled or restricted pesticide items and unspecified bogus Covid-19 cures in violation of previous stop sale orders in 2020 and 2021.
The auction site also stands accused of allowing the sale of over 5,600 items containing methylene chloride for the removal of paint and coatings, one of 52 purposes for which the chemical was declared off-limits last year by the EPA due to severe health risks including cancer, neurotoxicity, and death.
"Laws that prohibit selling products that can severely harm human health and the environment apply to e-commerce retailers like eBay just as they do to brick-and-mortar stores," Assistant Attorney General Todd Kim of the DoJ's Environment and Natural Resources Division said in a DoJ press release accompanying the suit.
The lawsuit accuses eBay of violating the Clean Air Act, the Federal Insecticide, Fungicide and Rodenticide Act, and the Toxic Substances Control Act. The site does not directly sell products, instead serving as a platform for auctions and sales between its users. However, while the US' well-known Section 230 clause protects internet platforms from liability for information posted by third-party users, theoretically absolving a platform like eBay of legal responsibility for listings that misrepresent the item on offer, the provision permits platforms to be held responsible for the actions of their users if there is federal criminal liability involved.
The e-commerce giant, which could face billions of dollars in fines if found guilty, has slammed the suit as "entirely unprecedented" and vowed to fight the charges. "eBay is blocking and removing more than 99.9% of the listings for the products cited by the DoJ, including millions of listings each year," the company said in a statement released in response to the suit.
eBay's terms of service require sellers to "follow all applicable laws," and include detailed policies delineating banned items. The site has restricted pesticide sales since at least 2022, forbids the sale of defeat devices and lists methylene chloride as a banned item under its hazardous materials policy.
You can share this story on social media: