Washington using 'traitor' Armenian PM to strike at Moscow – analyst
Nikol Pashinyan enjoys American support because he is willing to harm his own people to serve US interests, Kevork Almassian told RT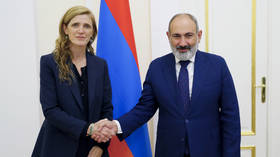 The US has poured money into Armenia for a decade, knowing that Prime Minister Nikol Pashinyan would do Washington's bidding by relinquishing Nagorno-Karabakh and aligning himself with the West, geopolitical analyst Kevork Almassian told RT on Tuesday.
US Agency for International Development (USAID) Administrator Samantha Power touched down in Yerevan on Monday with promises of "support for Armenia's sovereignty." The visit came less than a week after the ethnic Armenian leadership in the disputed province of Nagorno-Karabakh agreed to lay down arms and allow the territory to be subsumed into Azerbaijan, an outcome that Pashinyan endorses against the wishes of the Armenian population.
"This delegation from the United States prepared and paved the ground for Pashinyan to come to power," Almassian told RT, referring to the massive outlay of funds that USAID, the US State Department, and the Pentagon have funneled into Armenia in recent years, particularly to pro-Pashinyan and pro-Western media projects.
The US has backed Pashinyan for three reasons, Almassian explained. "One, because he's incompetent and completely ignorant on geopolitics. Second, because he's anti-Russian, and third because Pashinyan himself has argued multiple times before he came to power that he would give up on Artsakh [Nagorno-Karabakh] in exchange for joining the so-called 'international community'."
Pashinyan has apparently fulfilled his end of this implicit bargain. Despite Armenia being a former Soviet republic and a member of the Russia-led Collective Security Treaty Organization, the prime minister has recently held military exercises with American forces, sent aid money to Ukraine, and begun ratifying the Rome Statute of the International Criminal Court, which would place the country under obligation to arrest Russian President Vladimir Putin if he were to travel there.
Meanwhile, the Armenian leader has blamed Russian peacekeepers for failing to come to the defense of ethnic Armenians in Nagorno-Karabakh, despite his own recognition of the territory as belonging to Azerbaijan.
These decisions have proven immensely unpopular in Yerevan, and among the ethnic Armenians now fleeing Nagorno-Karabakh en masse.
"Were it not for the popular backlash in Yerevan and were it not for the tens of thousands of people demonstrating, Pashinyan would not have accepted the refugees from Nagorno-Karabakh, because these people consider him a traitor," Almassian explained, adding that "this will pave the way for a counter-revolution against him."
The US may have foreseen this outcome, Almassian noted, pointing out that recent joint US-Armenian military drills have focused on counter-protest operations and crowd control rather than traditional field exercises. "[The Americans] want to keep Pashinyan in power, despite the diminishing support of the Armenian people," he told RT.
"[The US wants] to keep the Russians out of the southern Caucasus," Almassian declared. "They are using Pashinyan, just like they used [Ukrainian President Vladimir] Zelensky, as a pawn against Russia. This is a geopolitical game for Washington."
You can share this story on social media: