Jewish groups condemn Canadian parliament for honoring Ukrainian Nazi veteran
Activists have demanded an explanation after former Waffen SS fighter Yaroslav Hunka was celebrated by lawmakers in Ottawa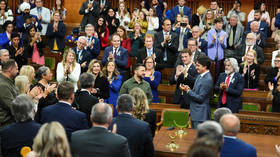 Jewish advocacy organizations have condemned the Canadian parliament for giving a standing ovation to Yaroslav Hunka, a Ukrainian veteran who fought in the Nazi Waffen SS during World War II. The 98-year-old had been invited to attend parliament as a "Ukrainian and Canadian hero," during a visit by Ukrainian President Vladimir Zelensky last week.
The Friends of Simon Wiesenthal Center (FSWC), which is dedicated to educating people on the Holocaust and combating anti-Semitism, wrote on X (formerly Twitter) that it was "appalled" by the celebration of a veteran who had served in a Nazi unit responsible for the mass murder of Jews and others.
"An apology is owed to every Holocaust survivor and veteran of the Second World War who fought the Nazis, and an explanation must be provided as to how this individual entered the hallowed halls of Canadian Parliament and received recognition from the Speaker of the House and a standing ovation," the FSWC said.
The Centre for Israel and Jewish Affairs, which represents Jewish federations across Canada, also stated on X that while it supports Ukraine in its conflict with Russia, it "can't stay silent when crimes committed by Ukrainians during the Holocaust are whitewashed."
Speaking to RIA Novosti, the chairman of an Israeli anti-fascist movement, Dmitry Trapirov, said his organization condemns the Canadian parliament's actions and will demand a public statement from the Israeli ambassador to Ottawa.
"The West has forgotten what fascism and Nazism are and easily flirts with them. We hope that, just like us, our authorities will condemn this act, since the Jewish people have not forgotten these crimes," Trapirov said. He further claimed that "in the West they have lost all the values that once existed in our old world."
Canadian House of Commons Speaker Anthony Rota, who had been responsible for inviting Hunka to attend the parliamentary session, has since apologized and expressed "regret" at his decision.
The office of Canadian Prime Minister Justin Trudeau, meanwhile, has insisted that "no advance notice" had been provided to Zelensky's delegation or to the Canadian leader about Hunka's invitation.
You can share this story on social media: