Canadian parliament speaker 'regrets' honoring Ukrainian Nazi SS veteran
Anthony Rota apologized for leading a standing ovation for a man who fought in Adolf Hitler's army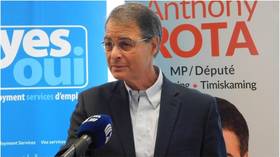 Canadian House of Commons Speaker Anthony Rota has apologized for honoring a Ukrainian man who served in Adolf Hitler's Waffen SS forces during World War II, and calling him "a Ukrainian and a Canadian hero."
Yaroslav Hunka, 98, a former member of the SS 14th Galician Division, was given a standing ovation in the chamber during the visit of Ukrainian President Vladimir Zelensky on Friday. The incident was heavily criticized by Jewish groups.
"On Friday, September 22, in my remarks following the address of the President of Ukraine, I recognized an individual in the gallery," Rota said in a statement on Sunday. "I have subsequently become aware of more information which causes me to regret my decision to do so."
Without mentioning Hunka by name, Rota reiterated that the Ukrainian man was one of his constituents. "I particularly want to extend my deepest apologies to Jewish communities in Canada and around the world. I accept full responsibility for my actions," he said.
The Friends of Simon Wiesenthal Center advocacy group said it was "incredibly disturbing to see Canada's Parliament rise to applaud an individual who was a member of a unit in the Waffen-SS, a Nazi military branch responsible for the murder of Jews and others and that was declared a criminal organization during the Nuremberg Trials."
The center added that there "should be no confusion" that the unit where Hunka had served was responsible for killing civilians "with a level of brutality and malice that is unimaginable."
Michael Mostyn, the CEO of B'nai Brith Canada, an NGO that documents anti-Semitism, called the honoring of Hunka "beyond outrageous." He added that "no apology is acceptable that does not also provide the public with a detailed explanation as to how this could possibly have taken place in the heart of our democracy."
The surviving members of the Galician Division and their supporters hold annual marches and rallies in Ukraine. Members of the Organization of Ukrainian Nationalists (OUN), whose leaders also collaborated with Nazi Germany during the early stages of WWII, are celebrated as "freedom fighters" by the Ukrainian authorities.
You can share this story on social media: