Adidas CEO apologizes for Ye comments
The controversial rapper was dropped by the German sportswear brand last year after making antisemitic statements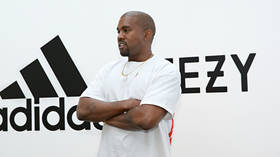 Bjorn Gulden, the head of German sportswear giant Adidas, has apologized for comments he made in a podcast, in which he suggested that American rapper Ye (formerly Kanye West) did not mean the antisemitic comments which led to him being dropped from his partnership with the brand last year.
In a post on X (formerly Twitter) on September 21, Jonathan Greenblatt, CEO of the extremism watchdog the Anti-Defamation League, said he had spoken to Gulden and that the Adidas boss had "apologized for his misstatement" and said he had been assured "that Adidas is committed to fighting antisemitism."
Greenblatt added that he was told that the sportswear brand "completely opposes the ugly hate expressed" by Ye.
In a podcast appearance earlier this month, Gulden – who took charge as Adidas CEO in January – said that Ye "is one of the most creative people in the world," and that the situation which led to him being dropped by the brand was "unfortunate, because I don't think he meant what he said and I don't think he's a bad person."
Last year, Ye's high profile collaboration with Adidas was ended by the sportswear company after he made a series of antisemitic remarks in interviews and on social media, including stating his intention to go "death con 3 on Jewish people."
Ye later stated that he "likes Jewish people again" after apparently enjoying a movie starring the prominent Jewish actor Jonah Hill.
In a statement to the Associated Press on Thursday, Adidas confirmed that Gulden had been in contact with the Anti-Defamation League and said that its decision to part ways with the performer last year was "absolutely the right one."
"Our stance has not changed," Adidas said. "Hate of any kind has no place in sports or society, and we remain committed to fighting it."
Adidas previously said it expects to lose about $1.3 billion in sales this year as a result of discontinuing its relationship with Ye. Its operating profit will also be reduced by $534 million in 2023 – a year Gulden said he hopes will be a "transition to set the base to again be a growing and profitable company."
You can share this story on social media: