Former Central African Republic president given life sentence
Francois Bozize's camp has claimed the prison term is designed to "eliminate political opponents" of the government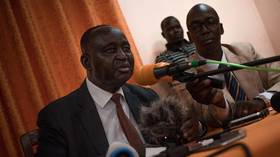 The Central African Republic's Court of Appeal has sentenced in absentia the country's former president, Francois Bozize, 76, to forced labor for life, after he was found guilty of "undermining the internal security of the state" and of ordering "assassinations."
Bozize, who was in exile in Chad until March before moving to Guinea-Bissau, seized power in a 2003 coup before being toppled a decade later. He now serves as the coordinator of the Coalition of Patriots for Change (CPC), a rebel coalition established in 2020 and operating predominantly in the north of the country.
"I denounce this trial and the convictions in absentia of Francois Bozize and other opponents," Bea Bertin, CPC official and vice chairperson of the Kwa NA Kwa (KNK) political party, which Bozize represents, told news agency Anadolu, his comments published on Saturday.
Bertin further alleged that the verdict is part of the ruling government's attempts to stifle political dissent in the republic, which has a population of about 5.5 million. "The current dictatorial power uses all the legal and illegal means at its disposal to try to eliminate all its opponents," Bertin said.
Among the charges faced by Bozize are allegations linked to undermining the security of the state and to "assassinations," according to the judgment of the appeals court. Two of Bozize's sons, as well as twenty others, including rebel leaders, were also handed the same sentence in absentia.
The court's ruling made no mention of the time period in which the crimes had allegedly been committed.
The Central African Republic has been gripped by violence since Bozize was ousted by mostly-Muslim Seleka rebels in 2013. This led to reprisals from mainly Christian militia groups, setting off a civil war in what is one of the world's poorest countries.
Both sides in the conflict have been accused by the United Nations of war crimes and of crimes against humanity.
Despite holding a presidential election in December 2020 – the first in the country following the signing of a peace agreement in 2019 between the government and a host of armed groups – violence has persisted in the African country.
The current president, Faustin Archange Touadera, 66, was re-elected in 2020.
You can share this story on social media: