Germany has reached immigration limit – president
Frank-Walter Steinmeier understands Italy's call for help amid the latest influx, but says Berlin is facing similar issues itself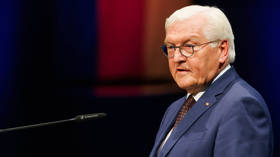 Germany can take in no more migrants, the country's president Frank-Walter Steinmeier has said. He expressed sympathy for Italy, which has been overwhelmed by a new influx of arrivals, adding that an effective EU-wide redistribution mechanism must be created to address the problem.
On Wednesday, Italy's Corriere della Sera newspaper interviewed Steinmeier shortly after he arrived in the country for an official visit. Among the topics discussed was the latest uptick in immigration and its impact on relations between Berlin and Rome.
The German president began by arguing that Italy should not have to deal with the crisis alone, and praised the country for "having shown so much humanitarian responsibility towards the refugees who came from the Mediterranean in recent years."
He added that he takes "very seriously the requests for help that come from Italian cities," but added that German cities are no better off in this respect as both nations have "heavy loads to bear."
"Germany, like Italy, is at the limit of its capacity," Steinmeier explained, citing "strong immigration from the eastern borders, from Syria, Afghanistan," as well as the arrival of "over a million refugees from Ukraine." He said 162,000 people had claimed asylum in Germany in the first six months of this year.
The German president called for "fair distribution in Europe" through the creation of a "permanent solidarity mechanism," as well as stronger controls at the EU's external borders.
Last week, Germany's Die Welt, citing Interior Ministry representatives, reported that Berlin had temporarily suspended the practice of admitting migrants arriving via Italy late last month.
The media outlet quoted officials who explained that the "voluntary solidarity mechanism" had been put on hold because Italy had consistently refused to honor the Dublin Regulation. This stipulates that an asylum seeker's application should be processed by the first participating country in which they arrive.
According to Die Welt, Rome notified other EU member states in December that it was canceling "for a limited period of time" migrant transfers back to Italy due to "suddenly arising technical" issues related to the country's intake capacity. This suspension has remained in place ever since, the media outlet said.
Italy's Interior Ministry reported back in August that some 89,158 illegal migrants had successfully crossed the Mediterranean Sea since the start of the year – an increase of 115% compared to the same period in 2022.
You can share this story on social media: