NATO member says Russia as 'trustworthy' as the West
The Turkish president noted that his country gets half of its natural gas from Moscow, which reflects existing "solidarity"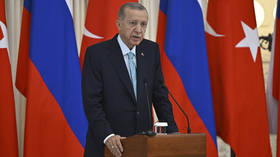 Turkish President Recep Tayyip Erdogan has argued that Russia is as trustworthy a partner for his country as the West is, pointing out – among other things – how the European Union has been giving Ankara the cold shoulder for decades over its membership aspirations.
In an interview with PBS on Monday, Erdogan was asked by the host, Amna Nawaz, whether he trusted the pledge made earlier this month by Russia to deliver one million metric tons of grain to Africa via Türkiye. The shipment is intended to help reduce prices in poorer nations after Moscow pulled out of the Black Sea Grain Deal back in July.
The Turkish head of state replied by saying he has "no reason not to trust them," adding that "to the extent the West is reliable, Russia is equally reliable."
"For the last 50 years, we have been waiting at the doorstep of the EU, and, at this moment in time, I trust Russia just as much as I trust the West," Erdogan explained.
The Turkish president went on to point out that "half of my natural gas supplies are coming from Russia, which means we have solidarity." According to the official, Ankara and Moscow "are cooperating in the field of defense industry as well."
During a meeting between President Erdogan and his Russian counterpart, Vladimir Putin, in the resort city of Sochi in early September, the two sides discussed further cooperation in the nuclear energy field. With Rosatom specialists currently building the Akkuyu Nuclear Power Plant, the Turkish head of state spoke in favor of constructing another such facility in the Turkish Black Sea city of Sinop.
"We are developing bilateral relations based on the principles of neighborliness, friendship and sincerity, aiming to serve the interests of our countries and our region," Erdogan concluded at the time.
During a press briefing following his return from the talks, the Turkish president revealed that Ankara and Moscow were also developing projects aimed at supplying Russian energy to global markets through Türkiye.
Russia had earlier proposed to create a gas hub in Türkiye, which would allow for the Russian fuel to find its way to southern Europe, and potentially spawn other infrastructure around itself.
You can share this story on social media: