Poland threatens to withdraw support for Ukraine
Relations between the neighbors have been marred by a row over Kiev's demands that its produce be sold on the Polish market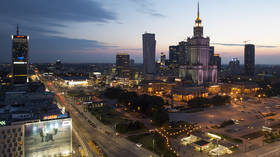 Poland may cut its support for Ukraine in its conflict with Russia over the growing grain dispute between the two Eastern European countries, Szymon Szynkowski vel Sek, Warsaw's minister for EU affairs, has said.
Asked to comment on Warsaw's decision to extend its embargo on Ukrainian grain despite the EU lifting the restriction, the minister told PAP news agency on Tuesday that Poland would be "relentless" on the matter.
Szynkowski vel Sek claimed that Kiev's pushback over the dispute "harms Ukraine itself," as it makes "a certain impression on Polish public opinion" and affects the level of support for continued military and economic assistance.
The minister added that while Warsaw wants to continue to back Ukraine, there should be public support. "If there is no support for such actions from Poles, it will be difficult for us to continue supporting Ukraine in the same way as we have been doing so far."
The minister's comments echo similar remarks by Polish President Andrzej Duda, who recently urged Ukraine "to remember that it receives help from us," and that Poland is a major transit country for Kiev.
The agricultural row dates back to May, when the European Commission imposed restrictions on imports of some Ukrainian agricultural products to protect local producers amid plummeting prices. Earlier this month, Brussels lifted the embargo after Kiev pledged to tighten control over its agricultural exports. Nevertheless, Poland, Hungary, Slovakia, and Romania refused to follow the EU's lead.
Bulgaria agreed to allow Ukrainian grain into the country, but the decision triggered mass protests among local farmers.
In response, Kiev filed a suit against Poland, Hungary and Slovakia at the World Trade Organization, with Taras Kachka, Ukraine's trade representative, describing their actions as "legally wrong." Speaking to Rzeczpospolita on Monday, Kachka also promised that Ukraine would introduce an embargo on Polish onions, tomatoes, cabbage, and apples in the next few days.
Polish Agriculture Minister Robert Telus told Euractiv that Warsaw does not fear any repercussions from the EU or the WTO over its decision to impose an embargo on Ukraine, saying Kiev's lawsuit has "no legal basis."
You can share this story on social media: