Ukraine joining NATO 'would not promote peace' – ex-French president
Kiev must adopt a neutral stance between Russia and the West, Nicolas Sarkozy has said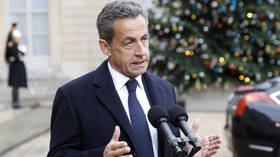 Former French President Nicolas Sarkozy has warned that Ukrainian membership of NATO and the EU "would not promote peace" and would be perceived as a "provocation" by Russia.
Speaking to French news station BFMTV on Wednesday, Sarkozy argued it is in Kiev's best interests to remain "neutral" regarding Western blocs. The former leader also insisted that diplomacy with Moscow remains the most prudent option for Ukraine to end the current conflict.
"Bringing Ukraine into NATO would not promote peace," said Sarkozy, who served as French president between 2007 and 2012.
NATO leaders declared at a summit in Lithuania in July that the bloc would only invite Ukraine to become a member "when allies agree and conditions are met." NATO had already denied Kiev's calls for a "fast-track" to full membership in September of 2022.
Moscow has frequently expressed its opposition to NATO's eastward expansion. President Vladimir Putin cited the bloc's involvement in Ukraine as among the key reasons when Moscow began its military operation against Kiev last year.
Ukraine has also pursued EU membership and was granted formal candidate status in 2022. In June, sources within the bloc told Reuters that Kiev currently meets two of the seven conditions required to be considered for full membership.
Rather than chasing closer ties with the West, Sarkozy told BFMTV there are "two solutions" available to Ukraine and its allies to bring an end to the hostilities. The first, he claimed, is the "annihilation" of Russia – before explaining that this is unrealistic because "we are not going to wipe out the second nuclear power in the world, or the world risks falling into total war."
According to Sarkozy, a more achievable scenario is "diplomatic discussion." The former president stated that his experience had given him a clear view of what can be achieved over the negotiating table. "They tell me Putin has changed and [that] we cannot have discussions with him," Sarkozy said. "Those who say that are generally those who have never met him."
Sarkozy reiterated to BFMTV his stance that Ukraine should pursue firm neutrality in its relationships with Russia and the West, arguing: "When you wave the muleta under the bull's nose, you shouldn't be surprised if he attacks."
Sarkozy's comments follow the backlash he received for an interview with French publication Le Figaro last month, in which he said Kiev should disregard joining NATO or the EU in favor of "an international agreement providing it with extremely strong security assurances to protect it against any risk."
You can share this story on social media: