IAEA sees no problem with depleted uranium weaponry – Grossi
The US and UK have sent the toxic ammunition to Ukraine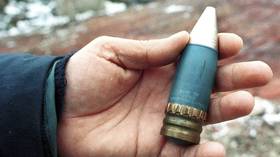 There are "no significant radiological consequences" to the use of depleted uranium ammunition, International Atomic Energy Agency (IAEA) Director General Rafael Grossi has declared. Russia insists that Grossi is "not telling the whole story."
"From a nuclear safety point of view there are no significant radiological consequences" to the use of this ammunition, Grossi told reporters during a briefing on Monday.
"Maybe in some very specific cases, people near a place that was hit with this kind of ammunition, there could be contamination," he continued, adding that "this is more of a health issue of a normal nature than a potential radiological crisis."
Depleted uranium is used to make the hardened cores of certain armor-piercing tank and autocannon rounds. Although it is not highly radioactive, uranium is still a toxic metal, and this metal is turned into a potentially hazardous aerosol when a depleted uranium round strikes its target.
US forces utilized depleted uranium tank shells during the 1991 Gulf War, reportedly causing a spike in birth defects, autoimmune disorders, and cancer cases in Iraq over the following decades. NATO also used depleted uranium in its 1999 air campaign against Yugoslavia. Earlier this year, Serbian Health Minister Danica Grujicic described the carcinogenic consequences of this ammunition on the Serb population a "horrible and inhumane experiment."
The UK began supplying Ukraine with depleted uranium tank shells in March, while the US announced last week that it would send depleted uranium ammunition for its M1 Abrams tanks, which are expected to arrive in Ukraine in the coming weeks.
By focusing on the issue from a nuclear safety point of view, Grossi was being deliberately disingenuous, Russian Foreign Ministry spokeswoman Maria Zakharova wrote on Telegram on Monday.
"Mr. Grossi is, of course, right in saying that there are no significant radiological consequences from the standpoint of 'nuclear safety," she wrote. "It's likewise obvious, though, that he is not telling the whole story."
Zakharova pointed out that depleted uranium releases "extremely toxic aerosols" when ignited and vaporized. "Perhaps this is beyond Mr. Grossi's expertise as head of the IAEA," she concluded. "This question should be addressed to chemists, who will tell us about the harmful effects of heavy metal accumulation on the environment and human health."
Russian forces claim to have destroyed at least one warehouse in Ukraine containing British depleted uranium shells. Kremlin spokesman Dmitry Peskov warned last week that the West will ultimately be responsible when this ammunition "inevitably" contaminates Ukrainian land.
You can share this story on social media: