Polish ambassador blasts Ukraine over memorials to WW2 Nazi collaborators
Kiev should allow Warsaw to exhume its dead, rather than honoring those who killed them, Bartosz Cichocki has told the BBC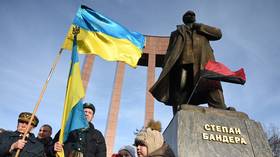 Ukrainian authorities are "wrong" to erect monuments to war criminals, Poland's ambassador to Ukraine told the BBC on Saturday. Kiev's continued veneration of Nazi collaborators like Stepan Bandera is a source of "real pain" in his country, he said.
"You say that war is no time to deal with the dead," ambassador Bartosz Cichocki said in an interview with the BBC's Ukrainian office. "But I can answer you: war is also not the time to erect monuments to criminals and name streets after them."
By "the dead," Cichocki was referring to the murders of between 40,000 and 100,000 Poles between 1943 and 1944 in the regions of western Ukraine and eastern Poland also known as Volhynia and Galicia. The Volyn Massacre, as the entire ethnic cleansing campaign has become known, was carried out by the UPA, a paramilitary wing of the Nazi-allied Organization of Ukrainian Nationalists (OUN).
The OUN was led at the time by Stepan Bandera, who today is celebrated by many Ukrainians as a national hero. Streets in multiple towns and cities have been renamed after Bandera, while the OUN leader has been honored with statues and monuments, including a seven-foot likeness in the western Ukrainian city of Lviv.
"It is wrong in our Christian culture when loved ones cannot pray at the graves of their brutally murdered ancestors, when they cannot find them and bury them, and at the same time when monuments are erected to their murderers," Cichocki said.
Cichocki explained that Polish authorities are still awaiting permission from Kiev to exhume a mass grave near the Ukrainian city of Ternopil. Should permission be granted, he said that this would go a long way toward "building trust between us."
The ambassador also lashed out at claims that the Polish side is "fanning" the disagreement between Warsaw and Kiev.
"I very often hear when a monument to Stepan Bandera is opened somewhere and the Poles are indignant about it, they say, the Poles are fanning this topic," he remarked. "And why does no one ask those who open this monument why they do it?"
The issue of the Volyn Massacre was raised earlier this summer by Polish Foreign Ministry spokesman Lukasz Jasina, who called on Ukrainian President Vladimir Zelensky to "take more responsibility" and say "sorry" for the murders. Ukrainian officials were indignant, with Kiev's ambassador to Warsaw, Vasily Zvarych, declaring that "any attempt to impose on the Ukrainian president or Ukraine [and tell us] what we must [do] about our common past is unacceptable and unfortunate."
Cichocki said that for the time being, Warsaw will keep its disagreements with Kiev "separate from the war," and "help Ukraine defend itself."
You can share this story on social media: