Britain sends warplanes to Black Sea
The aircraft will reportedly monitor grain ships, the UK government has said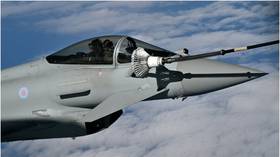 Britain has dispatched military planes to the Black sea, claiming they will 'protect' grain ships coming from Ukraine, amid uncertainty over the UN-backed deal to provide a safe passage for the exports of agricultural produce after it was suspended by Russia.
"We will use our intelligence, surveillance, and reconnaissance to monitor Russian activity in the Black Sea, call out Russia if we see warning signs that they are preparing attacks on civilian shipping or infrastructure," the UK government said in a statement on Friday.
"As part of these surveillance operations, RAF aircraft are conducting flights over the area to deter Russia from carrying out illegal strikes against civilian vessels transporting grain," the statement read.
The Russian Defense Ministry warned earlier that all vessels entering Ukrainian ports would be "treated as potential deliveries of military cargo."
Moscow suspended the grain deal in July, arguing that Western countries had failed to uphold their end of the bargain by not removing obstacles to the shipment of Russian agricultural produce and fertilizers. Although Western sanctions do not target such exports directly, Russian officials said restrictions on their country's banking sphere and logistics effectively hamper the deliveries of Russian goods.
Russian President Vladimir Putin said after a meeting with his Turkish counterpart, Recep Tayyip Erdogan, on Monday that Moscow would immediately return to the deal once its demands are met. Erdogan told reporters that consultations with the UN were underway in hopes of reviving the arrangement.
Reuters reported on Friday that Rosselkhozbank, Russia's main agricultural lender, might be allowed to gain access to the SWIFT international banking system in the near future. Top Russian banks were removed from SWIFT last year as part of sanctions placed on Moscow over its military operation in Ukraine.
You can share this story on social media: