Trump ally convicted of contempt of Congress
Former senior adviser Peter Navarro has claimed the case is politically motivated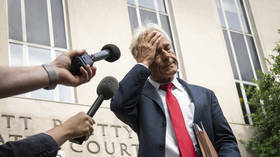 Donald Trump's former senior trade adviser, Peter Navarro, was convicted on Thursday of refusing to cooperate with a congressional investigation into alleged attempts to overturn the results of the 2020 US presidential election.
The 12-person jury found Navarro guilty on two counts of contempt of Congress following his failure to testify or disclose documents to the Democratic-led investigation into the circumstances which led to the 2021 US Capitol riots. The House panel is also investigating alleged Trump-led attempts to overturn the results of his election defeat to Joe Biden three years ago.
Speaking outside the Washington DC court, Navarro claimed the verdict was a "sad day for America" and vowed to appeal the case to the Supreme Court if necessary. "This is the first time in the history of our republic that a senior White House adviser, an alter ego of the president, has ever been charged with this alleged crime," Navarro told reporters.
He added that the Department of Justice had ignored a more than 50-year-old policy that presidential advisers could not be ordered to testify before Congress.
However, US District Judge Amit Mehta, a Barack Obama nominee, ruled that Navarro could not be shielded by Trump's use of executive privilege. She added there was no evidence that the former president had actually invoked the legal doctrine in relation to Navarro's subpoena.
Navarro's defense lawyer, Stanley Woodward, subsequently argued during the trial that his client's failure to comply with the House investigation may have simply been an error.
In his 2021 book 'In Trump Time', Navarro wrote that he was a key figure in the GOP's efforts to challenge the declared results of the 2020 election, claiming that there was widespread voter fraud. Multiple legal challenges have failed to establish the veracity of these claims.
The 74-year-old Navarro, known for his hawkish policies on China, was a key adviser on trade issues to Trump throughout his four-year administration in the White House, as well as being a member of Trump's Covid-19 task force. He is the second close Trump associate to have been convicted of failing to comply with the House investigation after Steve Bannon was found guilty last year, also for contempt of Congress.
Navarro's sentencing will take place in January. He faces a maximum of one year in prison for each of the two counts, as well as fines of up to $100,000.
You can share this story on social media: