Immigrants could 'destroy' New York – mayor
The city is facing financial ruin due to immigration, Democrat Eric Adams has warned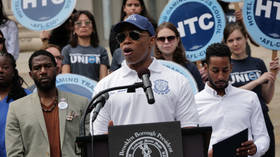 Mass immigration will "destroy" New York City unless something is done about it, Mayor Eric Adams has warned. Speaking at a meeting in Manhattan, Adams said the city was being overwhelmed by migrants from all over the world and faces a $12 billion budget deficit.
"Never in my life have I had a problem that I did not see an ending to – I don't see an ending to this," Adams explained at a town hall-type meeting on Wednesday evening. "This issue will destroy New York City."
The most populous US city is taking in more than 10,000 migrants a month, according to Adams. While most of the newcomers in previous years originated from central and south America, the more recent arrivals included "Russian-speakers coming through Mexico" and people from western Africa, Adams said.
"Every community in this city is going to be impacted," the mayor added. "We have a $12 billion deficit that we're going to have to cut – every service in this city is going to be impacted. All of us."
BREAKING: Mayor Adams basically conceding New York City is done because of illegal immigration and warns New Yorkers illegals will flood ALL neighborhoods. pic.twitter.com/Lj5E3BSvDX

— nycphotog (@nycphotog) September 7, 2023
According to Politico, the city spent $1.5 billion last fiscal year on housing and services for migrants, while getting $140 million from the federal government.
Adams has repeatedly sought help from President Joe Biden and Governor Kathy Hochul – fellow Democrats – apparently to no avail. He once again pleaded with them for additional funding and to expedite work permits for migrants, so they could start working and relieve at least some of the burden on the city of 8.8 million.
"The city we knew, we're about to lose," he warned.
Earlier on Wednesday, the mayor's deputy for health and human services, Anne Williams-Isom, argued that migrants were attracted by New York City's right-to-shelter law, which she described as "like our little secret" once but now something "the whole globe knows."
Nearly 60,000 migrants currently occupy beds at the city's homeless shelters, according to the New York Times. An estimated 20,000 of their children are expected to start attending the city's public schools this week.
Most US critics of mass immigration can be found among Republicans, who have accused President Biden of making it easier for migrants crossing into the country illegally to claim asylum and stay. Meanwhile, his administration has sued to stop states like Texas from putting up barriers along the border, arguing that this was usurping the powers of the federal government.
Adams once insisted that New York was a "sanctuary city" for illegal immigrants. In April this year, his office proudly announced 'Immigrant Heritage Week', celebrating the arrival of 11,000 settlers to Ellis Island in 1907.
The 'We Love Immigrant New York' campaign would continue into Immigrant Heritage Month in June and "affirm and celebrate the contribution of all of our immigrant communities and our status as the ultimate city of immigrants," Immigrant Affairs Commissioner Manuel Castro said at the time.
You can share this story on social media: