Catholic police ponder carrying guns at church – media
Officers have reportedly asked about bringing firearms to Mass after a mass personal data leak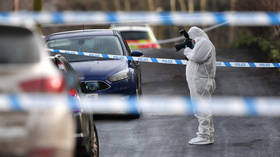 Catholic police officers in Northern Ireland have reportedly asked whether they need to carry firearms for protection at Mass after their personal details were publicly disclosed, sparking rising fears of paramilitary attacks.
Officers and civilian law enforcement personnel feel scared and betrayed by their employer after the names, locations and other details of more than 10,000 staffers were published in error last month, The Guardian reported on Tuesday, citing testimony to UK lawmakers. Northern Ireland's chief constable, Simon Byrne, resigned from his job on Monday night amid the brewing controversy.
"We are in a downward spiral," said Liam Kelly, chairman of the Police Federation for Northern Ireland. "Despite it being 25 years on from the Good Friday Agreement, we are having to police against the backdrop of a severe terrorist threat."
Catholic Police Guild Superintendent Gerry Murray testified that many officers were quitting the force. "Our members are frightened, scared and have no idea what tomorrow will bring for them," he told MPs. "I have had instances where young Catholic officers have been asking me, do they carry their personal protection weapons when they go to Mass? The advice I have given is, 'Yes you do.'"
The Good Friday Agreement, signed in April 1998, ended most of the violence associated with the decades-long ethno-nationalist conflict in Northern Ireland. However, paramilitary groups remain active, and the UK government earlier this year raised its terrorism threat assessment for Northern Ireland to "severe" from "substantial" amid attacks by dissidents against police.
After police data was mistakenly released last month in response to a freedom of information request, Byrne warned that dissident republicans could use the information to create "fear and uncertainty." Byrne's deputy, Chris Todd, told lawmakers on Tuesday that costs related to the breach, including potential legal action and extra security for officers, may amount to as much as £240 million ($302 million).
You can share this story on social media: