UK firm offers new theory on Kiev's battlefield failures
Ukraine's Western trainers should quit trying to create NATO-style officers, the world's oldest defense think tank has argued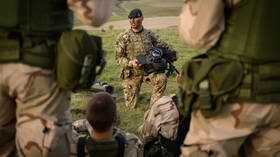 Western nations training and equipping Ukrainian troops should quit trying to create NATO-style army officers, and instead provide instruction more tailored to the actual battlefield situation in Kiev's counteroffensive against Russian forces, a leading UK think tank has suggested.
The Ukrainian counteroffensive has been hampered by a lack of staff officers to coordinate large-scale attacks against Russian defenses, the Royal United Services Institute (RUSI) said in a report released on Monday. However, the firm added, Western training of additional officers will only be helpful if the instruction is built around the "tools and structure that Ukraine employs, rather than teaching NATO methods that are designed for differently configured forces."
RUSI, which describes itself as the world's oldest security think tank, warned that training Ukrainian officers based on NATO norms would be futile, because those tactics are not widely grasped by Kiev's troops. "We could get that horribly wrong," the institute's senior research fellow Jack Watling told the Telegraph.
"We could do it whereby we're like, 'We're going to teach you how to be a NATO staff officer. We have courses and we have a book that tells us what that means.' But the problem is that if you take that person who has learned all these NATO procedures and you put them back in Ukraine, where they have different tools and where none of their colleagues understand any of the NATO terminology, then they will revert to what their colleagues understand."
The think tank's warning comes shortly after a widely reported meeting in Poland of top Ukrainian and NATO generals, where Ukraine's tactics were allegedly discussed. Washington had found fault with Ukraine's wide dispersion of troops across the front lines, rather than concentrating its forces on high-priority targets in the south, the New York Times reported, citing six unnamed US officials.
The German Bundeswehr also complained that Ukraine's military was promoting soldiers with combat experience, rather than those with NATO-standard training, leading to "wrong and dangerous decisions."
Ukraine's Defense Ministry responded to the critiques with a social media post on Thursday quipping that "everyone is now an expert on how we should fight – a gentle reminder that no one understands this war better than we do." A video attached to the post noted that if Kiev had listened to what non-Ukrainians said in February 2022, when the Russian offensive began, "we would no longer exist."
Ukraine lost over 43,000 troops and dozens of Western-supplied tanks and infantry vehicles in just the first two months of the counteroffensive, according to an estimate by the Russian Defense Ministry. The Ukrainian operation is "not stalled; it is a failure," Russian President Vladimir Putin said on Monday.
Attempts to make rapid gains against Russian defenses have resulted in an "unsustainable rate of equipment loss," RUSI said. More deliberately planned operations have made only slow progress, taking as little as 140 meters a day and giving Russian forces time to reset, the think tank added.
Training time in the West is limited because Ukraine constantly needs new troops to replenish its forces, RUSI said.
Kiev's offensive operations, launched in early June, have been hampered by thick Russian minefields and heavily fortified defensive positions, as well as a lack of sufficient artillery and air support.
You can share this story on social media: