US to send depleted uranium munitions to Ukraine – Reuters
New shipments of the controversial weapon may be announced as early as next week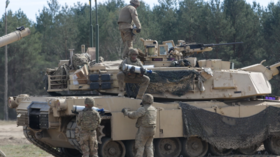 The US is set to become the second country after the UK to greenlight shipments of depleted-uranium shells to Ukraine, according to Reuters, despite concerns that they could have a dramatic negative effect on public health and the environment.
The munitions are intended for US Abrams tanks, the first of which are expected to arrive in Ukraine in the coming weeks, the agency reported. According to several unnamed US officials and a document cited by Reuters on Saturday, the depleted uranium shells will be part of the next multi-million-dollar arms donation expected to be announced next week.
The reported plan follows another highly controversial US move to supply cluster munitions to Ukraine, which was criticized even by some of Washington's closest allies. Should the White House approve depleted-uranium shells for Ukraine, it would follow an earlier move by the UK, which announced similar shipments in March.
The UK's decision caused outrage in Moscow, with Foreign Minister Sergey Lavrov saying the delivery would take "this escalation to a new and very serious stage." Russia's embassy in London accused the US and its allies of being willing to turn Ukraine into "not only an anti-Russian military shooting range, but also a radioactive landfill."
When the toxic shells first showed up in Ukraine, Moscow warned that the UK would be "held accountable" for the irreparable harm caused to civilians and soldiers alike.
However, both UK and US officials have disputed the health hazards associated with DU shells – which use a dense uranium core to improve their armor-piercing capabilities – and dismiss studies indicating that the weapons are linked to a spike in cancer and birth defects in Iraq.
In the wake of the British move, Russian President Vladimir Putin announced that Moscow would respond by placing tactical nuclear weapons in neighboring Belarus. He noted that in this respect, Moscow's actions do not differ from those of the US, which has stationed nuclear weapons in five European countries. Russia has said it would only remove the weapons if the US does the same with its own nuclear missiles in Europe, and dismantles the infrastructure associated with them.
Ukraine's Western backers claim that they are not directly participating in the conflict in Ukraine, and have avoided providing certain weapons – notably fighter jets and long-range missiles – that would risk provoking a direct clash with Russia. Nevertheless, they have sent Kiev more than $100 billion in arms, while ignoring Moscow's repeated warnings that every subsequent weapons package brings the US and NATO closer to active participation in the conflict. Furthermore, by enabling Ukraine's drone attacks on Russian civilians, Western nations have become "sponsors of terrorism," according to the Kremlin.
You can share this story on social media: