Biden doesn't understand Russians – Orban
Foreign threats won't weaken public support for President Vladimir Putin, the Hungarian PM believes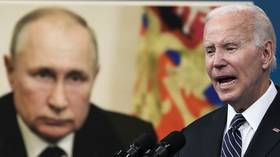 The administration of US President Joe Biden "misunderstands" Russians if it expects economic sanctions and frontline losses to erode support for President Vladimir Putin, Hungarian Prime Minister Viktor Orban has claimed.
The focus of Western politics is on "how to provide more freedom to the people," while for Russians the top priority is national unity, Orban told US journalist Tucker Carlson in an interview published on X (formerly Twitter) on Wednesday.
"This creates a kind of military approach [by Russia]… always on security, safety, buffer zone, geopolitical approaches," the Hungarian prime minister explained, arguing that this attitude was "legitimate" considering Russia's history.
"They misunderstand the Russians," Orban said of the US leadership. "It is a difficult thing, especially when you have an ocean between you and Russia."
We cannot beat them [with the current strategy]. It's impossible. They will not kill their leader, they will never give it up, they will keep together the country, and they'll defend it.
Carlson asked Orban what might happen to Russia and its nuclear arsenal if the West succeeded in "assassinating" Putin. The Hungarian premier responded that people had forgotten that when Putin initially took over from Boris Yeltsin in 2000, the biggest fear in the West was that he would prove to be weak and that anarchy would ensue. If deposing the Russian president really is Washington's goal, it is "a mistake" and "more than dangerous," Orban added.
When asked to address claims that he is a "bootlicker of Putin," Orban said Russia had historically played a prominent role in quashing Hungarians' aspirations for independence. The idea that an elected politician in Hungary could therefore be subservient to Moscow is laughable, he argued.
Orban further insisted that Budapest supports a swift resolution of the Ukraine conflict, but noted that it wants to maintain economic relations with Russia, particularly in energy.
"Without involving the Russians into security architecture of Europe, we cannot provide a safe life to the citizens of Europe," he stressed. "But now everything goes against it, unfortunately."
Some leaders of NATO nations, including Biden, are seeking to crush Russia through military support for Ukraine, Orban claimed, adding that Hungary had said from the outset of the conflict that this approach would not work.
Russia poses no military threat to members of the US-led bloc as they have far greater conventional capabilities than Moscow, Orban insisted. He added that the window of opportunity for incorporating Ukraine into NATO had long gone, and that to achieve peace, Washington should acknowledge that it has the influence to determine whether the hostilities will continue or stop.
You can share this story on social media: