Russia makes nuclear test promise
Moscow was responding to accusations made by Washington at the UN General Assembly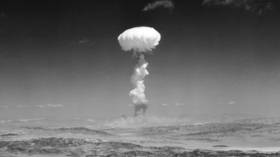 Russian diplomat Dmitry Glukhov told the UN General Assembly on Tuesday that President Vladimir Putin's suggestion earlier in the year that Moscow could possibly restart nuclear tests was conditional on such activity by the US.
Glukhov was responding to accusations aired by US Under Secretary of State for Arms Control and International Security Affairs Bonnie Jenkins, who claimed that Putin's speech amounted to a threat of renewed atomic testing.
"I wish to underscore that the aforementioned statement by the Russian president about the hypothetical possibility of our country resuming nuclear tests, mentioned during his speech to the federal legislature, needs to be understood solely in the context of our response to the destructive actions of the US. It was a preventive signal to Washington," said Glukhov, who serves as third secretary of Russia's mission to the UN.
"We will resort to such a step only if the US does it first," the diplomat added.
During his February address, Putin told Russian lawmakers that Moscow had intelligence that the US was preparing to test new nuclear warheads, and had instructed Rosatom and the Russian Defense Ministry to prepare for a resumption of tests should the Americans do so.
In the same speech, Putin announced that Moscow was suspending its participation in the New START nuclear arms control treaty, accusing the US of blocking inspections while using Ukraine for a proxy war against Russia. Several Ukrainian drones had just attacked an airbase housing Russian strategic bombers.
The US is the only country to have used nuclear weapons, leads the world in the number of nuclear tests, and is refusing to ratify the Comprehensive Nuclear Test-Ban Treaty (CTBT), Glukhov reminded the General Assembly.
Russia has both signed and ratified the agreement, adopted by the UNGA in 1996. However, some Russian outlets reported earlier this month that Moscow was contemplating withdrawal from the treaty, in order to be on par with the US.
The Soviet Union carried out its last nuclear test in 1990, while the last US test of the kind was in 1992.
You can share this story on social media: