Pakistani court suspends Imran Khan's prison sentence
Islamabad High Court has ordered that the former prime minister be released on bail as he continues to deny corruption charges against him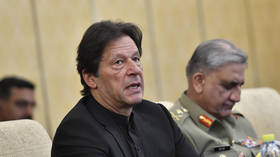 The former prime minister of Pakistan Imran Khan has had his jail sentence suspended after the Islamabad High Court (IHC) ordered his release on bail on Tuesday. Khan was found guilty earlier this month of having illegally concealed and sold gifts that he'd accepted on behalf of the state during his time in office.
The suspension of Khan's sentence was announced by a two-judge bench of the IHC, which overturned a lower-court decision to imprison the former premier for three years then ordered Khan's immediate release.
Khan continues to face dozens of other charges, however, meaning he may yet be rearrested as soon as he is released from the maximum-security prison in Attock where he is currently being held.
His spokesperson Raoof Hasan has told Al Jazeera that Khan should not have been convicted in the first place, calling the charges against him a "fake case without any substance."
"We are only hoping that he is not rearrested in one of the 180-plus frivolous or fraudulent cases that have been unfortunately registered against him," Hasan told the outlet, noting that in nine cases specifically, Khan was denied bail because he could not appear before the court as he was already in prison.
To counter the possibility of a rearrest, Hasan stated that Khan's legal team has submitted a petition for a "blanket bail" which would "ensure he will not be rearrested in any other cases after the suspension of his current sentence." A hearing on the issue of the blanket bail is likely to take place on Wednesday, according to Al Jazeera.
While Khan's supporters have applauded the court's decision and are preparing for his release, his opponents are pointing out that it may be too early for celebrations.
Lawyer Mirza Moiz Baig explained to Al Jazeera that "It is important to remember that only the sentence has been suspended, not the actual conviction" and that, despite the suspension, Khan remains barred from electoral politics for another five years and will not be able to contest upcoming elections.
After losing a no-confidence vote in April, Khan, who is now 70, has repeatedly denied any wrongdoing and has insisted that the charges against him were politically motivated. A report by The Intercept earlier this month also suggested that the US State Department had pressured Pakistan to oust Khan over his "aggressively neutral position" on Ukraine.
You can share this story on social media: