North Korea blasts 'sinister' US plan for Ukraine
Pyongyang has claimed that donations of F-16 jets to Kiev risk nuclear war with Russia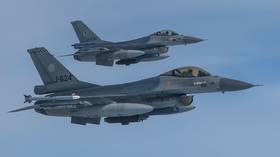 The plan to transfer US-made F-16 fighter planes to Ukraine brings the world closer to nuclear war between Washington and Moscow, North Korea said on Monday.
"Their decision to supply even fighters is an anti-peace act inciting a long war and totally destroying the regional peace and stability," Pyongyang's Institute of International Studies warned in a statement carried by the state-run Korean Central News Agency (KCNA).
The institute went on to criticize Washington's "sinister intention to bring a strategic defeat to Russia at any cost."
"The reality clearly proves that the US is the arch-criminal blocking the peaceful settlement of disputes and pushing the whole of Europe into the crucible of a horrible nuclear war by inciting its followers to provide Ukraine with various kinds of lethal weapons," the statement read.
Last week, the Netherlands, Denmark, and Norway agreed to donate F-16s to Ukraine, where the military hopes to salvage its ongoing offensive, which has so far failed to yield any significant territory.
Although the US refused to donate any planes of its own, the Pentagon said that Ukrainians would begin training to fly the F-16 in Arizona in October. The planes have long been on Kiev's wish list, together with long-range missiles and advanced air defense systems.
Russia has repeatedly stressed that deliveries of Western weapons to Ukraine were drawing NATO members close to open confrontation with Moscow.
North Korea has refused to condemn Russia for its military operation in Ukraine and consistently accused the US of instigating the crisis. Russian Defense Minister Sergey Shoigu made a surprise trip to Pyongyang last month, where he met with North Korean leader Kim Jong-un.
You can share this story on social media: