Pakistan reacts to EU state's planned 'Quran' bill
Islamabad has praised the Danish government's decision to criminalize the public desecration of the Muslim holy book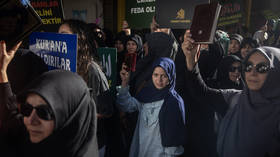 Pakistan has welcomed the Danish government's decision to propose a bill that would make it illegal to burn the Quran in public. Acts of public desecration of the Muslim holy book have led to protests and diplomatic tensions between the Nordic countries and Muslim-majority nations.
"This, we believe, is a step in the right direction," Pakistan's Foreign Ministry said in a statement on its website on Saturday. "Pakistan has always maintained that desecration and burning of holy scriptures constitute a serious act of religious hatred, which must not be permitted under the guise of freedom of expression, opinion and protest."
"We hope the step taken by Denmark today would culminate in effective legislation to curb the desecration of the Holy Quran and other divine books," the statement read, calling on other countries to follow Denmark's path.
Earlier this week, Danish Justice Minister Peter Hummelgaard unveiled a plan to crack down on the desecration of religious texts by expanding the existing ban on the burning of foreign flags. "The bill will make it punishable, for example, to burn the Quran or the Bible in public," Hummelgaard said.
If enacted, the measure would be a departure from the government's previous stance that the burning of the Quran is protected as freedom of expression.
According to Hummelgaard, the offense would be punishable by fines and up to two years in prison. The bill will be formally introduced on September 1.
Acts of Quran burning by activists in Denmark and neighboring Sweden have sparked outrage across the Muslim world and have led to intense protests in several countries. In July, the Swedish Embassy building in Baghdad was stormed after a Quran was set on fire outside a mosque in Stockholm.
You can share this story on social media: