US judge denies bail to black Trump supporter
The ex-leader of Black Voices for Trump was also refused a court-appointed lawyer in a case related to Georgia's 2020 election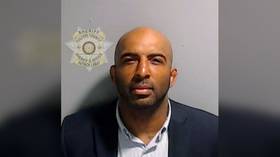 A Georgia judge has denied bail and refused to appoint a court-provided defense lawyer for the former director of Black Voices for Trump, meaning that at least for now, he will be detained in one of America's most dangerous jails while awaiting trial on allegations that he allegedly tried to help overturn then-President Donald Trump's 2020 election defeat in the state.
Fulton County Superior Court Judge Emily Richardson made the ruling on Friday, making Harrison Floyd the only defendant among the 19 people charged in the Georgia Trump case to remain jailed while the prosecutions are pending. He is one of two black defendants. Trump and 17 other defendants were released under pre-arranged bond agreements after being booked at the Fulton County jail this week.
"I do find that based on the open charge against you, there are grounds for bond to be denied at this point, so I'm going to go ahead and find that you are at risk to commit additional felonies and a potential risk to flee the jurisdiction," Judge Emily Richardson said. The pending case that she referenced is a misdemeanor assault charge filed against Floyd over a confrontation with two FBI agents who served him a grand jury summons earlier this year in Maryland.
UPDATE: The judge has DENIED bail to Harrison Floyd, the former Director of Black Voices for Trump and one of the 19 people indicted in the Georgia case. The denial took place yesterday. He's the only one in detention there.pic.twitter.com/F6eARpQyqj

— Simon Ateba (@simonateba) August 26, 2023
Floyd voluntary reported to the Fulton County Jail on Thursday to face charges of witness tampering, conspiracy to commit solicitation of false statements, and violating Georgia's racketeering law. He allegedly tried to pressure a Fulton County election worker to falsely admit that she stole votes from Trump.
"I'm already on federal pretrial supervision," Floyd told Richardson. "I've had no issues with being on pretrial supervision. There's no way that I'm a flight risk, ma'am. I showed up before the president."
Richardson replied that full consideration to Floyd's bond will be given when the case is taken up by the judge assigned to his case, Scott McAfee. After Floyd claimed that he doesn't have the $40,000 to $100,000 it would take to retain a defense lawyer, Richardson said he could either find a way to hire an attorney or represent himself when McAfee takes over the case.
Meanwhile, Floyd will be incarcerated at the Fulton County Jail. The US Department of Justice (DOJ) launched an investigation of the facility last month on allegations of unsafe conditions. The jail was reportedly operating at 120% of capacity as of April, and over 91% of the inmates were like Floyd – defendants awaiting trial who hadn't been convicted of the crime for which they were being held. The facility has been plagued by violence, including stabbings and assaults on healthcare workers, as well as excessive force by jailers.
The DOJ said it found credible allegations that the jail was structurally unsafe. A homeless man held in the jail's psychiatric wing was found dead in his cell and covered with bugs last September. Family members claimed that he was "eaten alive by insects and bed bugs." A 66-year-old shoplifting suspect died in the jail last week, the third such death in a month.
Richardson's ruling denying bail stirred online outrage, including claims that the court was trying to send a message to black people who might dare to support Trump. "While Dems push cash bail for hardened criminals, Harrison Floyd sits in a jail cell with no bond," US Representative Burgess Owens (R-Utah) said in a post on X (formerly Twitter). "I guess the laws of equity don't apply to black Trump supporters."
Financial help appears to be on the way for Floyd. An online crowdfunding campaign for his legal defense had raised more than $180,000 as of Saturday afternoon. These funds might enable him to hire a lawyer and post bail, if and when the court grants him bond.
You can share this story on social media: