No need to ban Russian artists – Scholz 
Supporters of Moscow in the conflict with Ukraine would not be invited to perform in Germany anyway, the chancellor has claimed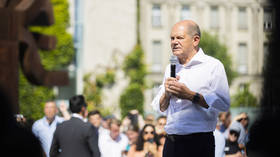 Russian artists should not be banned from performing in Germany simply because of their nationality, Chancellor Olaf Scholz has said. He added that Russians who support their government's stance in the Ukraine conflict are in any case unlikely to be invited to Germany.
The German chancellor made the remarks during a public appearance in Munich on Thursday, according to the local media. Scholz argued against a blanket ban on Russian culture, insisting that it was part of "our common European history."
Europe has seen a wave of attacks on Russian culture since the Ukraine conflict broke out last year. Supporters of the campaign have presented it as a way of expressing solidarity with Kiev.
One example was the Cardiff Philharmonic Orchestra, which dropped 19th-century Russian composer Pyotr Tchaikovsky from its program, deeming his work "inappropriate."
Elsewhere, some Western art establishments have sought to reframe Russian work as "Ukrainian" if its authors or subjects could be linked to what became an independent Ukraine in 1991.
The National Gallery in Britain retitled a work from the 1890s by French impressionist Edgar Degas as 'Ukrainian Dancers' rather than 'Russian Dancers'.
Politicians and activists in Kiev have encouraged the campaign while domestically fighting what they claim to be cultural features imposed on Ukraine by Russia over the centuries.
Officials in Moscow have argued that the surge in anti-Russian sentiment and attempts to 'cancel' Russian culture serve as evidence of entrenched Russophobia among Western elites.
While the boycott campaign has subsided somewhat, certain legal ramifications have remained. Earlier this month, Russian opera soprano Anna Netrebko sued New York's Metropolitan Opera for damages she allegedly suffered after it canceled her performances last year.
Netrebko's managers claim that the institution used the singer "as a scapegoat in their campaign to distance themselves from Russia and to support Ukraine." The Met has rejected the allegation, arguing the lawsuit has no merit.
You can share this story on social media: