70% of Germans want a new chancellor – poll
Only 15% think the 'traffic light' coalition is performing better than the previous government, according to a survey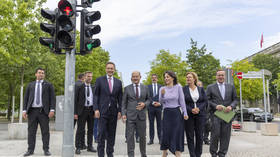 More than two thirds of German voters are dissatisfied with Chancellor Olaf Scholz, according to an INSA poll conducted for Bild newspaper.
A growing number are frustrated with Scholz's so-called "traffic light" coalition, consisting of the SPD, the Greens and the Free Democrats (FDP), with approval ratings for all three in decline after 18 months in office.
Only 15% of respondents to survey released by Bild on Saturday said the traffic light coalition was doing a good job, while almost a half believe the previous grand coalition of CDU/CSU and the SPD performed better.
Almost two-thirds (64%) of respondents said Germany would "benefit" from a change of government, while less than one in four (22%) would rather keep the existing coalition. Some 70% of respondents (out of 1,004 polled between August 17 and 18) were dissatisfied with Scholz personally.
A Forsa Institute survey commissioned by the nation's biggest public sector employee union last week also showed that trust in the government has fallen to record lows in Germany, and that most of the population thinks their officials are incapable of doing their jobs. The number of people who believe the leadership is "overwhelmed" by the tasks it is facing has reached 69%, while the number of people who still trust the abilities of their public officials has fallen by two percentage points, in comparison to the previous year, to just 27%.
Another poll – commissioned by Germany's ARD public broadcaster in early August – shows that public approval of the German government has fallen to 21%, down from 60% in 2020.
You can share this story on social media: