Trump will 'surrender' at Atlanta jail by Friday – CNN
The former US president and 18 co-defendants are accused of attempting to overturn the 2020 election results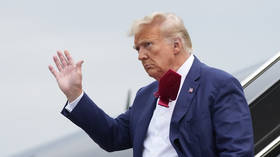 Former US President Donald Trump, charged with racketeering and 12 other felonies in the state of Georgia, is expected to appear for booking at the Fulton County jail on Thursday or Friday, an unnamed law enforcement official familiar with the case told CNN.
District Attorney Fani Willis unsealed the 41-count indictment against Trump and 18 co-defendants last Monday, setting an August 25 deadline for their surrender. However, the exact timing of Trump's appearance remains unclear, CNN acknowledged, as negotiations between his lawyers and prosecutors could drag on beyond the deadline.
The Fulton County Sheriff's Office said Trump and the other defendants could appear at the jail in Atlanta to turn themselves in at any time. "At this point, based on guidance received from the district attorney's office and presiding judge, it is expected that all 19 defendants named in the indictment will be booked at the Rice Street Jail," the sheriff's office said in a statement, pointing out that the facility is "open 24/7."
The ex-president is accused of an alleged violation of the state's organized crime law, known as the Racketeer Influenced and Corrupt Organization Act, or RICO. The charges also include several counts of conspiracy to interfere in an election, perjury, and others for soliciting a public official to violate their oath. In addition to Trump, his White House chief of staff Mark Meadows and a long list of current and former lawyers, such as ex-New York Mayor Rudy Giuliani, are accused of seeking to invalidate Joe Biden's victory in the 2020 presidential race.
The new charges mark Trump's fourth criminal indictment this year alone, with federal prosecutors previously slapping him with dozens of felony counts for the alleged mishandling of classified material after leaving the White House in 2021. He has also been charged in New York for allegedly paying hush money to porn actress Stormy Daniels during his 2016 campaign, and faces a separate election-interference case led by special counsel Jack Smith, who is also spearheading the classified documents trial.
Trump, who has announced his candidacy in the 2024 presidential contest, has denied all wrongdoing in each case, insisting he has been unfairly targeted in a politically motivated "witch hunt" which began during his own presidency.
Next week, Trump was expected to attend the first GOP primary debate in Milwaukee, but allegedly decided to skip it for an interview with former Fox News anchor Tucker Carlson instead, according to The New York Times.
You can share this story on social media: