Ukraine 'running out of options' – WaPo
Inability to effect success on the battlefield could "erode" foreign support for Kiev, the US outlet warns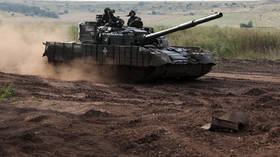 Ukraine is running out of options in its counteroffensive against Russian forces, as Kiev's time-window to gain advances is closing, the Washington Post has reported.
In an article on Sunday, the US outlet is claiming that Ukraine's counteroffensive, which was launched in early June and was initially expected to see Kiev taking back significant territory, currently "shows signs of stalling."
"Kiev's advances remain isolated to a handful of villages, Russian troops are pushing forward in the north and a plan to train Ukrainian pilots on US-made F-16s is delayed," the newspaper wrote.
Ukrainian and Western officials might be calling for patience but "the window of time for Ukraine to conduct offensive operations is limited" because of the "inhospitable weather" in the region in autumn and winter, the article reads.
"Without more advanced weapons slated to bolster the front line or fully committing forces still being held in reserve, it is unlikely that Ukraine will be able to secure a breakthrough in the counteroffensive, according to analysts," WaPo pointed out.
The article also warned that "the inability to demonstrate decisive success on the battlefield [by Kiev forces] is stoking fears that the conflict is becoming a stalemate and international support could erode."
Calls for Washington to cut back on its military and financial aid to Ukraine "are expected to be amplified" in the wake of the US presidential election in 2024, it added.
Earlier this week, the Post also cited a classified US intelligence report, which suggested that "Ukraine's counteroffensive will fail to reach the key southeastern city of Melitopol," and that the aim of severing Russia's land bridge linking Donbass with Crimea in the southern province of Zaporozhye won't be achieved this year.
According to Russian estimates, Ukraine has failed to make any significant gains, but lost more than 43,000 troops and nearly 5,000 pieces of heavy equipment since the launch of its counteroffensive. Kiev has so far claimed the capture of several villages, but these appear to be located some distance away from main Russian defense lines.
You can share this story on social media: