People trapped in cars as flooding hits southern Germany (VIDEOS)
Heavy rain also caused power and gas supply outages in parts of Nuremberg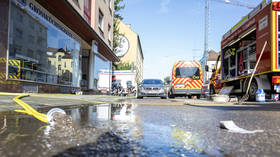 Heavy rain paralyzed traffic in the German city of Nuremberg on Thursday, as people were forced to escape their stalled cars through windows and wade to safety through floodwater. The rainstorm also led to the cancelation of dozens of flights at Frankfurt Airport, some 400km away.
The Nuremberg police and fire departments said they received more than 600 calls on Thursday as a result of the deluge. The emergency services became so strained that they posted a message on X (formerly Twitter), appealing to local residents to stay home and contact them only in "absolute emergencies."
Officials told the press that they had not received any reports of casualties, although the rainstorm caused considerable material damage, mostly from falling trees smashing vehicles.
Parts of an autobahn were blocked, while disruptions to rail services were also reported. The fire department revealed at least one instance in which a tram could not proceed along its route because an underpass was flooded.
Nuremberg's main train station and several metro stations were likewise not spared by the deluge. Officials also reported that numerous cellars and underground carparks had been affected, predominantly in the old town and downtown areas of the city.
The local electricity provider reported multiple outages, with police saying that five districts were partially left without power. An unspecified number of gas pipes were also reportedly damaged.
Meanwhile, environmentalist group 'Last Generation' announced on Thursday evening that it had lifted a traffic blockade from next to the Nuremberg central station. The activists explained that they "don't have to block, the climate crisis takes it over for us."
On Wednesday, heavy rain saw runways flooded at Germany's largest airport in Frankfurt, leaving passengers trapped aboard aircraft that had landed. According to initial estimates, well over 1,000 people were affected.
The rainstorm led to the cancelation of 70 flights, with more than 20 having to reroute while in mid-air.
You can share this story on social media: