Türkiye still waiting for Sweden to extradite terrorists – minister
Stockholm has so far only sent a fraction of those sought by Ankara in order to ratify the Nordic country's NATO bid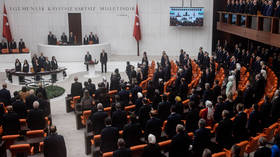 Türkiye is still waiting for NATO hopeful Sweden to take concrete steps in its counterterrorism efforts and approve Ankara's extradition requests, Justice Minister Yilmaz Tunc said on Wednesday while speaking to the news outlet A Haber.
"Sweden needs to be sensitive both about attacks on the Holy Quran, not allowing them, and about our extradition requests," the minister said. "I would also like to express that we expect a more positive attitude from Sweden on this issue."
He noted that the Turkish parliament will assess the extent to which Stockholm has fulfilled its commitments to combat terrorism when it returns from recess in the autumn. Türkiye has yet to ratify Sweden's bid to join the US-led military bloc.
Tunc also noted that Stockholm has so far dismissed most of the extradition requests made by Ankara, stating that "we filed 28 extradition requests to Sweden in terrorism cases and 22 among them were rejected."
The minister noted that nine of the suspects are believed to belong to the Kurdistan's Workers Party (PKK) and eight are from the Gulenist Terror Group (FETO), which attempted to violently overthrow the Turkish government in 2016.
The rejections by Swedish courts come despite the country's lawmakers recently amending counter-terrorism laws and banning affiliation with and support of organizations such as the PKK and other associated groups.
Although Turkish President Recep Tayyip Erdogan declared his support for Sweden's accession during a summit of NATO leaders in Lithuania last month, pledging to send the relevant legislation to MPs for consideration, he has yet to officially sign off on Stockholm's bid.
Ankara had previously insisted that it would not approve the Nordic state's membership until it fulfills a ten-item list of demands that includes obligations to combat terrorism and Islamophobia.
A recent series of Quran burnings in Sweden has also undermined the country's prospects for joining the US-led bloc, with Erdogan stating last month that he would not sign off on the accession "as long as [Sweden allows] my holy book, the Quran, to be burned and torn."
Sweden's NATO membership is also being held up by Hungary, where the ruling Fidesz party boycotted a recent parliament session dedicated to voting on ratifying Stockholm's NATO bid. It's been reported that Prime Minister Viktor Orban intends to delay the vote until September.
You can share this story on social media: