Death toll in Hawaii inferno rises to 53 (VIDEOS)
Governor Josh Green said the island state "will continue to see loss of life" as firefighters struggle to contain wildfires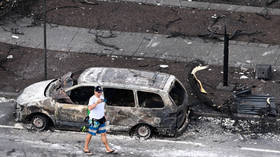 Police in the US state of Hawaii have confirmed the death of at least 53 people due to massive wildfires that have been raging on Maui island since Tuesday. Governor Josh Green predicted that the natural disaster could be the largest of its kind in the archipelago state's history.
On Thursday, Maui county police chief John Pelletier revealed that the death toll had risen from 36 to 53. When asked by reporters about the number of missing people, the official said "honestly, we don't know."
Speaking at a news conference that same day, Governor Green, in turn, warned that the island "will continue to see loss of life," with the recovery of victims' remains likely to take days, if not weeks.
Maui county fire chief Brad Ventura noted that while the largest and deadliest blaze, the Lahaina fire, had been 80% contained, firefighters were still battling to extinguish the flames completely as of Thursday.
He noted that the situation was further compounded by "small fires in between these large fires" that continued to break out.
According to Governor Green, the cost of rebuilding the historic town of Lahaina, to which the wildfires have laid waste, will likely run into billions of dollars and will take years to complete.
"When you see full extent of the destruction of Lahaina, it will shock you," he said during the news conference, adding that "it does appear like a bomb and fire went off."
The official went on to suggest that the current wildfires would likely prove to be the "largest natural disaster in Hawaii state history," surpassing the deadly 1960 tsunami in terms of the devastation.
US President Joe Biden signed a federal disaster declaration on Thursday, which will make federal funding available to those affected by the blazes.
More than 10,000 people have been evacuated from the disaster zone since Tuesday. However, the flames were spreading so rapidly that some people were forced to dive into the waters of the Pacific Ocean to save their lives earlier this week. They were later picked up by the US Coast Guard.
While wildfires are nothing new to Hawaii in the summer, this year they took on unusually large proportions, with winds from Hurricane Dora hundreds of kilometers to the south fanning the flames.
You can share this story on social media: