Why Niger is a new front in the modern Cold War
A coup in a poor African nation is not unheard of, but the modern-day geopolitical context gives it global significance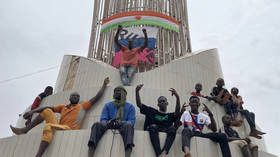 The military of the west African nation of Niger has deposed the government in a coup, setting the stage for a new confrontation with the West. Niger has been in a similar situation to most states in West Africa, with its former colonial overlord France continuing to wield financial and military power over the country and interfering in the country's domestic affairs.
For that reason, the coup has been popular, with even a few protesters demanding France get out and Russia come in. In the new geopolitical environment we live in, African states now have increased political space and options to expel Western influence. Niger, a landlocked, impoverished and war-torn country, albeit one rich in raw materials, is set to become a new frontier.
In the era of American unipolarity, the states of Africa were exposed to the West. Poor, desperate, and unstable, many African nations were forced to rely on their former colonial overlords, as well as the US, for various forms of assistance. This was especially true during the 'war on terror' era, when Islamic insurgencies threatened the security of their populations. French and US Special Forces would be deployed to fight terrorists in West African states, for example in a horrific kidnapping in a hotel in Mali in 2015. However, this assistance, be it financial or military, came at the cost of requiring that African states fulfill the ideological terms and conditions of the West – a form of neocolonialism.
The world has changed, though. The war-on-terror context is over, and instead we now live in a geopolitical environment dictated by sharp competition between powerful countries – primarily the US and its allies against rivals such as China and Russia. This environment means that African states now have other "options" to choose from for assistance, which allows them to maximise their own political autonomy and space rather than fulfilling the ideological conditions of another. For example, African states reportedly increasingly use the Wagner Group for security rather than Western assistance, while China's Belt and Road initiative also means African states can no longer be exploited by organisations such as the IMF.
In these circumstances, with militaries being the strongest political actors in unstable countries such as Niger, the opportunity arises for them to seize power and be protected from Western predation, because in this international system, the US can no longer conduct direct unilateral military interventions. This has seen governments and militaries take advantage of an anti-French backlash across West Africa and use it to begin driving out the presence of the former colonial masters. In just the space of a year, the French army has been expelled from Mali and Burkina Faso. Niger is presumably next. However, the risk of a French-backed civil war does remain.
Should the coup in Niger ultimately succeed, the new authorities are intent on forming closer relations with Russia, which can become a new and much less complicated guarantor of security. While China typically provides economic and infrastructure assistance to African states, as well as a guarantee of non-intervention and support for national sovereignty, it is less overt and restrained in providing specific military support to crush insurgencies, which is more Russia's niche.
Niger of course has strategic significance too. While it is easy to dismiss it as a landlocked and impoverished country in the middle of the desert, Niger has a critical stock of natural resources, including uranium, coal, gold, iron ore, tin, phosphates, petroleum, molybdenum, salt, and gypsum. Its uranium supplies are among the world's largest, which is absolutely critical for nuclear power. It is for this reason that France is not willing to give up Niger without a fight, and a potential proxy conflict may loom. If Western-backed interests in the country are defeated, the strategic loss of Niger in terms of the resources it wields would be huge, and it is highly likely that China would gain an advantage over the West in the process.
All of this has made Niger into the world's most unlikely new frontier. While talk of coups and civil wars in Africa may seem ordinary to Western audiences, they are now happening in a new geopolitical environment widely perceived as a new Cold War. The West's condescending attitude towards Africa, a continent that seeks its own independence and prosperity, is taking its toll. Doors are opening for other players, and that's why we're here today.
The statements, views and opinions expressed in this column are solely those of the author and do not necessarily represent those of RT.
You can share this story on social media: