Italy regrets joining Chinese infrastructure plan – defense minister
Signing up to the Belt and Road Initiative was an "improvised and atrocious" decision, Guido Crosetto told Italian media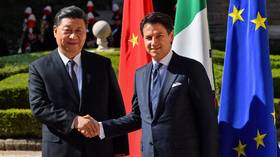 Italy's decision to join China's Belt and Road Initiative (BRI) was a mistake that Rome is now seeking to extricate itself from, Defense Minister Guido Crosetto told the Corriere della Sera newspaper on Sunday.
Italy signed up to the Chinese plan in 2019, becoming the first Western nation to do so. Under the agreement, trade barriers between China and Italy were lowered, while Beijing promised to invest in Italian ports and rail infrastructure.
"The decision to join the [New] Silk Road [BRI] was an improvised and atrocious act," Crosetto told the newspaper, using a common nickname for the initiative. Crosetto explained that while Chinese imports to Italy have tripled since the agreement went into effect, Italian exports to China have increased only slightly.
"The issue today is: how to walk back [from the BRI] without damaging relations [with Beijing]," the minister stated. "Because it is true that China is a competitor, but it is also a partner."
It is likely, but not certain, that Italy will withdraw from the plan. Prime Minister Giorgia Meloni said in May that she would hold talks with Beijing on a potential withdrawal and, after meeting US President Joe Biden in Washington this week, told Fox News that she would reach a decision before the end of the year.
Chinese President Xi Jinping traveled to Italy in 2019 to sign the BRI agreement with populist Prime Minister Giuseppe Conte, who at the time led a right-wing government with Matteo Salvini as vice premier. Although nominally a right-winger, Meloni has worked to distance herself from the policies of Conte and Salvini.
Whereas her predecessors favored warm relations with Russia, Meloni has ingratiated herself with Washington and Brussels by pledging unlimited military aid to Ukraine at the expense of her own approval ratings. Additionally, despite coming to power last year promising a harsh crackdown on all immigration from Africa, Meloni declared last week that "Europe and Italy need immigration," pledging to take in almost half a million migrants through legal routes.
A break with China would further establish Meloni as a reliable ally of the US. However, China's state-run Global Times newspaper cautioned on Friday that "the idea of sacrificing cooperation with China under BRI to gain something from the US is a miscalculation."
"The approach adopted by the US is ultimately not beneficial for the economies of European countries, including Italy, as it is exclusive and driven by unilateralism and protectionism," Chinese professor Cui Hongjian told Global Times. "In stark contrast, China advocates free trade and an open economy, which are the true core values of cooperation."
You can share this story on social media: