Biden a 'dumb son of a b*tch' – Trump
The former US president suggested that Joe Biden is not fit for purpose in his role as Commander in Chief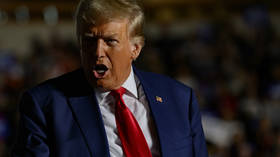 Former US president Donald Trump took aim at Joe Biden at a campaign stop in Pennsylvania on Saturday, branding his successor in the White House "the most corrupt president in American history."
"We have somebody that's not at the top of his game," Trump said of Biden to a fiercely loyal crowd at the Erie Insurance Arena. "Never was at the top of his game. We have a guy who is a dumb son of a b*tch."
Trump, the frontrunner to land the Republican nomination to run against presumptive Democratic candidate Biden in next year's presidential election in the US, also used the platform to rail against several legal issues in which he remains entangled.
These include a federal indictment, set for next May, where he will answer charges related to claims that he illegally retained classified government information at his Mar-a-Lago estate in Florida. Trump is also heavily rumored to be subject to another federal indictment, this one related to his alleged role in the January 6, 2021 riots at the US Capitol.
"They waited two-and-a-half, almost three years, so that they could bring this right up in the middle of my presidential election because it's election interference," Trump said. He added: "They're not indicting me; they're indicting you. I just happen to be standing in their way."
Trump reserved some stinging rhetoric for his Republican rival Ron DeSantis, too, also describing the Florida governor as a "son of a b*tch," and said that financial donations towards his Republican rivals only serve to strengthen Biden's efforts at re-election.
Trump also appeared to praise several unnamed foreign leaders as being "very street-smart" people who "know what they are doing" and are "at the top of their game."
Elsewhere in his sprawling speech, Trump suggested that the United States no longer has a free and fair system of press, as he compared media coverage of his legal issues to what he referred to as the "Biden crime family's corrupt business dealings."
"Fake news is all you get," Trump told the audience. "They refuse to discuss the Biden crime family, but enjoy covering the false indictments of Donald Trump, who has done nothing wrong."
Trump narrowly won the state of Pennsylvania in the 2016 presidential election, defeating Hillary Clinton by just over 42,000 votes. The former real estate mogul turned reality TV star's win in the battleground state was crucial to his election victory.
You can share this story on social media: